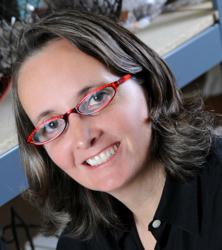 Baltimore, MD (PRWEB) August 08, 2012
Stylish and innovative eco-retailer bambeco is proud to announce that its CEO, Susan Aplin, was awarded a Brava! Top CEO Award by Smart CEO at ceremony held at Baltimore's American Visionary Art Museum. In just three years of operation, bambeco has become well-recognized for its retail innovations and for presenting a complete collection of beautiful and affordable eco-friendly home furnishings and décor that meet stringent environmental standards. This commitment has attracted the attention of consumers and media alike.
Aplin's unique commitment to the community combined with her vision of building environmental sustainability into the home décor industry are among the qualities that set her apart from the other 200 nominees for this award. Since its infancy, bambeco has supported both local and international conservation organizations such as the Chesapeake Bay Foundation, and the World Wildlife Fund, among others. Under Aplin's leadership, the company has realized significant sales growth over the past several years and is now positioned to transform the retail home furnishings industry into a more environmentally responsible model – one that builds in sustainability from the start.
"I can tell you that you do not have to pay more to go green," said Susan Aplin, "You can purchase high-quality, stylish home décor while being true to your environmental values," she added. "What's more, recycling and repurposing what would otherwise be waste materials are great ways to create jobs and build local economies while creating hot, stylish products that look good and do good at the same time."
The driving vision behind bambeco is to provide consumers a compelling green alternative that offers price, quality, and style comparable to that of a traditional product offering.
"Smart CEO has built a wonderful community of women entrepreneurs who give back to society through mentoring, volunteering and philanthropy," Aplin said "all things we take seriously at bambeco," she added. "I'm so proud to be a part of that growing family, and I'm looking forward to doing great things with these exceptional women."
To find out more about bambeco and the standards applied to all bambeco products, as well as its partners and manufacturers, visit http://www.bambeco.com or the blog, Inspired Habitat. You can also follow them on Twitter and Facebook.
###