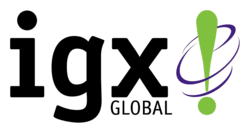 Rocky Hill, CT (PRWEB) August 09, 2012
Scott became a part of the industry in 1997 with Florida-based, national VAR Solunet, selling best-of-breed solutions to ISPs and Enterprise. During his nine year tenure at Solunet, Koob sold hardware solutions for 7 years, then started and successfully ran the Services and Training business unit. His rapid success with that business unit led to the acquisition of a partner company to fulfill demand, bolster capabilities and enhance brand.
Koob's responsibilities at igxglobal will include supporting the sales team in deepening relationships with customers specific to their technical services needs, developing relationships with manufacturers, cultivating new business and marketing igxglobal's suite of Professional Services products and capabilities.
"igxglobal's technical services are not simply presales engineers or technicians who can get the lights blinking on the products we sell," says Koob. "We have the expertise to help our customers meet their objectives. We can provide the network design, assessments, installation and integration, threat mitigation, and ongoing managed services that network adminsitrators, managers, and CTOs need to ensure dependable delivery of their services. I am very excited to be part of the igxglobal team!"
Scott will report to John Hasty, Director of Technical Services. He will work closely with John Quinn, Director of Sales, and the sales team to deliver on igxglobal's commitment to provide our customers a complete solution.
"Scott has a long history of understanding a client's needs and presenting solutions which address their business requirements. Scott will allow igxglobal, Inc. to enhance our partnership with each client by responding to our customers' requests in a timely, efficient manner and with solid solutions to address their services needs," says Barry Johnson, President/CTO of igxglobal, Inc.
About igxglobal
igxglobal provides information technology services and solutions designed to improve the performance, infrastructure and security of our clients' operations.
At igxglobal we are committed to helping our customers operate their networks with more security, efficiency and reliability. We pledge to understand your business model, your customers, and your expectations in order to provide you with the most viable information technology solution.
With a customer focused approach and a comprehensive life cycle model of solutions, we will be your long term partners in ensuring the performance, infrastructure and security of your information networks.
These solutions are systematically delivered in our core competencies of:

Threat Mitigation Services.
Security Products.
Professional Services.
Security Operations Services.
Whether your needs warrant pre or post intelligence, or the operation is handled by your resources or ours, igxglobal has the experience, expertise and knowledge to reduce your risk and simplify your approach in order to achieve predictability with security.