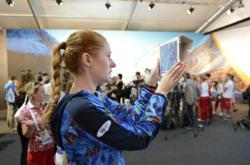 we are now able to share the amazing transformation that Sochi is undergoing and allow people to experience for themselves all that the Winter Games there in 2014 has to offer – all absolutely free to the public
(PRWEB) August 07, 2012
Sochi 2014, the joint organisers of Russia.Sochi.Park, heralded as the biggest Russian event ever to be held in the UK, have announced that Sochi.Park is to become free to visitors for the remainder of the London 2012 Olympic Games, thanks to one of Sochi 2014's principal partners Rosneft.
Sochi 2014, in London's prestigious Kensington Gardens, Is a winter wonderland in the middle of a London summer, providing a high-tech visitor experience that takes guests through Russia to Sochi, the next Olympic host city, via high-tech interactive digital experiences including a 4D chairlift ride up the Krasnodar mountains.
Dmitry Chernyshenko, Sochi 2014 President and CEO, said:
"We have always wanted as many people as possible to get a flavour of the Games in 2014. We are delighted that, thanks to our partners at Rosneft, we are now able to share the amazing transformation that Sochi is undergoing and allow people to experience for themselves all that the Winter Games there in 2014 has to offer – all absolutely free to the public. I hope that even more Londoners and those visiting these great Games will be able to come and see it for themselves."
Sochi.Park also boasts an ice arena on which the biggest ice spectacular ever to be staged outside Russia is being presented: "Sochi - Small Stories of a Big City", starring 6 Olympic and 18 World Champion ice skaters including llya Averbukh and Tatiana Navka. Tickets for this can be purchased at ticket offices in Sochi park.