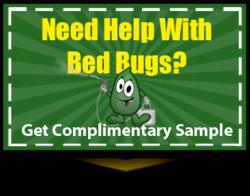 Unlike most pest-control solutions, Bed Bug Bully is non-toxic as it made with natural ingredients.
Cincinnati, OH (PRWEB) August 08, 2012
Bed bugs can infest even libraries. The report from kansas.com stating that Wichita's Central Library was bugged by the pests on Thursday proved that true. And as the library patrons are now at risk of transferring bed bugs to their houses, HowDoBedBugsLook.com advised the purchase of Bed Bug Bully to effecively counter the possible pests' presence.
As said by the report, the library will close down until Monday to address the pest problem. It related that currently, officials are assessing the extent of it. Additionally, the post also shared that the vampire-like pests were first seen in the library on a chair in the ground floor of the building on Wednesday.
According to HowDoBedBugsLook, the small pests can infest almost any place as long as it offers them easy access to their food source. It detailed that their infestation does not depend on the cleanliness of the area which makes even libraries, five-star hotels and even hospitals susceptible to their presence.
Generally, bed bugs don't cause diseases said the website. However, there are still several problems that they can bring in health and money terms. It explained that with their presence in a house, furniture pieces may need to be replaced and family member could suffer from bed bug bites. Buying new items and getting a treatment for their bites could add unnecessary spending to a person's budget, it said. Apart from, it added that the pests leave a feeling of anxiety and paranoia that affects the mental wellness of an individual.
To avoid those negative effects and many other specific problems that bed bugs can bring, it is therefore important to know how to prevent their entry to houses, asserted the site. However, the small blood-sucking creatures are sneaky and could get past anyone's preventive measures.
Sign Up for an Online Guide to Effectively Get Rid of Bed Bugs
Because of that, HowDoBedBugsLook said that apart from implementing preventive steps, everyone must also prepare a bed bug spray. With a product within reach, one can immediately counter the pests' presence, thus preventing a full-out infestation of them. But of all the bed bug solutions available today, it only recommends the use of Bed Bug Bully.
Unlike most pest-control solutions, Bed Bug Bully is non-toxic as it made with natural ingredients. And that makes it a safe pick among others given that it causes no allergies, headache, sneezing and breathing difficulties. It also offers a hassle-free way to get rid of bed bugs as it requires no evacuation from where the treatment took place.
With all of its benefits, Bed Bug Bully makes the best pick to prepare for possible bed bug presence, said the site. However, it understands the apprehension always directed to new products. And so, it encourages the public to Bed Bug Bully's complimentary sample to prove that is truly safe apart from effective.
Get a Complimentary Sample of the Non-Toxic Bed Bug Bully Today