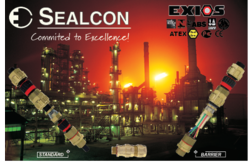 Centennial, CO (PRWEB) August 13, 2012
Sealcon is proud to present a full Hummel EXIOS product line.
Hummel's EXIOS line consists of cable glands and accessories designed for armored and non-armored cable in hazardous locations Ex-e and E-d. Exios innovative features & benefits target specifically the hazardous duty onshore and off-shore markets.
EXIOS Glands meets the latest IECEx/ATEX standards. UL pending on some types as well. We offer Inmetro, Gost and ABS certifications. Sealcon is stocking multiple sizes of the EXIOS Cable Gland. Fewer parts cover a larger cable range thus elimitating overstocking. We offer ten sizes from 3/8" to 3" NPT and eleven sizes ranging from M16 to M75.
Certifications require a demanding aging test. With Silicon O-Rings and Seals the new EXIOS Glands reach -76°F to 221°F (-60°C to 105°C) which makes these products extremely robust and resilient in most hazardous areas. EXIOS has wide clamping ranges using the well-known Hummel cable strain relief clamping system. An innovative interlocking armor cone has an acceptance range from 0–0.10" (0–2.55mm) which creates zero torsion on the cable cores and armor. Dual strain relief seals on the inner and outer sheath of the cable ensure protection from damage to the cable. All cable glands are made from high grade Brass or 316 Stainless Steel. We are RoHS, DECA BDE compliant.