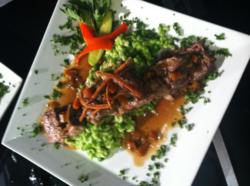 "Houston Restaurant Weeks gives people in Houston an opportunity to experience Houston's exceptional restaurants while providing much-needed relief for families suffering from hunger," said Brian Greene, CEO of the Houston Food Bank
Houston, TX (PRWEB) August 07, 2012
Carmelo's Italian Restaurant, Houston's premier restaurant for authentic Italian cuisine, recently announced their upcoming participation in the 2012 Houston Restaurant Weeks. The restaurant will be one of 150 local Houston restaurants participating in this special event that benefits the Houston Food Bank.
Houston Restaurant Weeks, an annual event that began in 2003, showcases and promotes Houston's array of fine restaurants, while raising money for the Houston Food Bank. Participating restaurants will feature a special Houston Restaurants Week Menu, where diners select a three-course dinner for $35.00. For each meal purchased, the restaurant donates $5.00 to the Houston Food Bank. Last's year's Houston Restaurant Weeks raised $800,000.00 for the food bank.
"Houston Restaurant Weeks gives people in Houston an opportunity to experience Houston's exceptional restaurants while providing much-needed relief for families suffering from hunger," said Brian Greene, CEO of the Houston Food Bank.
Carmelo's Italian Restaurant has been in participating in Houston Restaurant Weeks since it's inception in 2003. This year's special Houston Restaurant Weeks' dinner menu features several appetizers, favorite entrees, such as Beef Short Ribs over Sweet Peas Risotto and Duck Breast con Marmellata d'Arancia Siciliana and some of Carmelo's most popular homemade Italian desserts, including Mille Foglie and Gelato di Pistacchio di Bronte.
"Carmelo's is happy to be supporting hunger relief with Houston Restaurant Weeks again this year," said Carmelo Mauro, founder of Carmelo's Ristortante Italiano. "Join us for a delicious meal during the month of August and give $5.00 to the Houston Food Bank."
For more information about Carmelo's Italian Restaurant and all of the restaurant's special events, including Houston Restaurants Weeks and Vintner Dinners, visit the Happenings page on the restaurant's website at http://www.carmelosrestaurant.com.
About the company:
For authentic Italian food in a place where customers are treated like family, visit Carmelo's Italian Restaurant, a 2012 Open Table Diner's Choice, which just celebrated 31 years in Houston.. Carmelo's was founded by its namesake, Carmelo Mauro in 1981. The Authentic Italian restaurant features signature dishes such as Osso Buco, red snapper mango over risotto pancake, oysters with champagne reduction, and fettuccine carbonara. The restaurant also offers a wide selection of wine, beer, cocktails and hor d'oeuvres. Carmelo's has been recognized for its impeccable selection and extensive wine list consisting of Italian and California wines and has received the Wine Spectator Award of Excellence numerous times. Carmelo's Italian Restaurant is located at 14795 Memorial Drive in Houston. For more information, call (281)-531-0696 or visit Carmelosrestaurant.com.