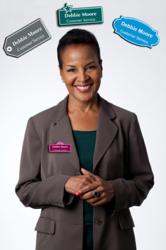 "Party hosts and event organizers will love the items to manage crowd turnouts," said Cole Paulson, Manager of MyNameBadges.
Brooklyn, New York (PRWEB) August 08, 2012
MyNameBadges.com, a leading distributor of name badges and templates, has launched a new line of Showcase™ name badges. These new badges provide an attractive and classy touch to badges for name identification.
MyNameBadges specializes in identification badges to reinforce a distinctive look. Showcase™ name badges are an elegant version of more standard templates. These are excellent items for conferences, networking events, exhibitions, or formal dinners. "Party hosts and event organizers will love the items to manage crowd turnouts," said Cole Paulson, Manager of MyNameBadges. "The badges could also be visually captivating options for daily work life."
The new line features a variety of designer name badges with multiple enticing designs. The shapes are truly one-of-a-kind, from shell forms, star shapes, jigsaws, hearts, and more. Each badge comes with customizable wizards that allow users to input names and titles with the option to adjust font size and style if desired. Numerous fonts and color options are available for aesthetic appeal, and there is no extra charge to add the second line of text.
During the process of composing badges, MyNameBadges takes great care in using premier durable materials. The print is engraved onto acrylic plate, exposing the contrasting core color. The acrylic plate is 60 mil thick and has a 5 mil top layer welded to the contrasting core color. The site offers a convenient option of taking excel files for orders with more than 25 badges.
For more information, visit http://www.mynamebadges.com.
###
About MyNameBadges.com
MyNameBadges is the premier source for safety and identification badges. The badges are durable yet affordable. Customize badges easily with personal fonts, logos, and art that can be fixed at no extra charge.
About SmartSign
SmartSign is one of America's fastest-growing e-commerce companies and parent of MyNameBadges.com, MyParkingSign.com, as well as more than 50 other sites. The company manufactures and distributes a wide range of signs, tags, mats, and labels. In the past, many consumers have found it hard to find, hard to design and hard to order signs with the right message. By positioning "signs as solutions," SmartSign has taken an entirely different approach. Through highly targeted, content-rich, and authoritative retail sites, the company provides specific solutions to specific problems, such as customizing an ID badge. SmartSign is widely recognized for its quality construction; its signs come with a 3M® warranty and outlast fast-fading, ink-jet signs.