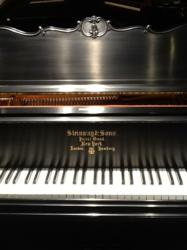 ...it sounds as magnificent as it looks.
Tallahassee, FL (PRWEB) August 08, 2012
Jim's Pianos, a company specializing in piano sales, service, and tuning in Tallahassee, Fla., has taken pride in delivering high quality care to its customers' pianos for more than 50 years. Recently, the company came into possession of an old Steinway & Sons Model B grand piano whose better days had long since passed. After much work and careful effort, Jim's Pianos is exceptionally pleased to announce that it has brought this historic piano back to life in all of its former glory.
The piano, originally built in 1901, was purchased from a customer who no longer played it. Jim's Pianos promised the owner that it would do everything it could to bring the piano back to life, and though it took a great deal of effort over several months, the job has been completed. Now, this historic Steinway & Sons Model B grand piano is the centerpiece of the showroom at Jim's Pianos.
The restoration included a complete refinishing of the Victorian-styled case. Originally ornately designed and crafted in the Steinway & Sons New York factory, the team at Jim's Pianos hamns painstakingly restored these beautiful accents. The piano action, on the other hand, was completely replaced with brand new genuine Steinway & Sons parts ordered directly from the factory in New York.
After the physical restoration was complete, the "piano whisperers" at Jim's Pianos spent hours fine tuning and regulating the antique piano to ensure that it sounds as magnificent as it looks. Having completed this, the piano now resonates powerfully and plays as smoothly as the day it was built. This fine piece of musical instrument history is now on display and available for purchase at Jim's Pianos retail location in the Tallahassee Mall. For more information about this historic piano and other beautiful instruments that Jim's Pianos offers, call (850) 205-5467.
About the company:
At Jim's Pianos, they achieve a high level of customer satisfaction by upholding the principle that no service is final until the customer is completely happy. Owner, James R. Sims, has built his business based on a philosophy of exceptional service and fair prices. Jim Sims has been serving Southern Georgia and the Big Bend Areas of Florida for more than 50 years. His expertise ranges from sales, to personal in-home tunings, and complete restoration of musical heirlooms. Manager, GinaMarie Senters, is a Tallahassee native with a Bachelors Degree and experience in Music Education and Music Ministry. She has a passion to see schools, homes, and houses of worship equipped with the best pianos possible. She works to provide professional and knowledgeable services which put Jim's Piano Customers first! For more information visit their website at http://www.jimspianos.com.