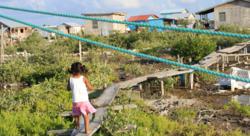 No child should be living in these conditions.
San Mateo, Belize (PRWEB) August 07, 2012
Earlier this year the Grid Earth Project, http://www.gridearth.org made a trip to San Mateo, to distribute personal solar lamps to school children. Unfortunately, the need was bigger than we expected, as accurate numbers were not available at that time.
We are happy to announce that the Grid Earth Project will be returning to San Mateo at the end of August to distribute enough lamps to complete the project. 'When we leave this time, every child in San Mateo will have a safe, effective light. It will help them to be able to study at night as well as keep them safe from the fires that are inevitable, when living under these conditions.
San Mateo is an array of make shift houses built on stilts in a swampy area. There is no electricity, running water, or sewage. It is literally a place of last resort, a place filled with families trying to survive on the lowest economic rung of society. These lights allow the children the opportunity to study after sundown, and promotes reading and education. More importantly, they keep the children safe.
In addition to fires, breathing the toxic fumes from kerosene lanterns in small confined spaces is extremely toxic.
Because San Mateo is in a swamp, the houses are connected by old rotten boards fashioned together with rusty nails, wire and anything else they can get their hands on. They call it " London Bridge" Most of the children in San Mateo are barefoot and eventually suffer cuts to their feet as a result.
Because of the conditions, San Mateo is a dangerous place after dark. Not only is it nearly impossible to navigate the bridges, there is a substantial rodent infestation problem. Keeping light on in their homes at night helps to keep rodents out of the homes, and away from the food sources that are attracting them.
Although there is much to be done in San Mateo, light is an essential part of their ability to survive in these conditions. No child should live in darkness.
The Grid Earth Project would like to acknowledge the participation of the following groups and individuals in this project
The Northwest Austin, Texas Rotary Club
The Palms Hotel, San Pedro Ambergris Caye Belize
Mr. Rene Pennell at the Ministry of Finance
The San Pedro Town Council
Councilman Kenrick Bracket without whose tireless efforts this project may not have been possible.