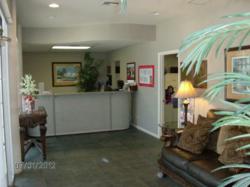 Our clients' comfort and privacy are extremely important to us
(PRWEB) August 09, 2012
On June 13, Helen Buckley and her team moved into their new office at 2601 20th Street Suite B Vero Beach, FL. "We're excited to be in a more convenient location to help serve our amazing clients even better," Buckley said.
The office has an "old Florida" feel to it, which Buckley says will be familiar to many of her long-time customers. "Our business has always been built on creating lasting, solid relationships," she said. "We want to continue to build on that foundation, with the 'small town' feel of a local agency , while connecting with the community in new ways. For example, you can like our Facebook page – 'Helen Buckley – State Farm Agent' to stay in touch online."
In addition to ample parking and a beautifully-decorated interior, the new location features individual offices for consultations with Buckley's experienced team of experts. "Our clients' comfort and privacy are extremely important to us," said Buckley. "I think they will love our new office."
In the coming weeks, the agency will hold an open house to honor and welcome their clients and the surrounding community. "We're planning to use this new space to host events, seminars, get-togethers – the sort of thing that can bring people closer and get people excited. We'd love to hear your event ideas on our Facebook page. I want to be there for you every day, both as a professional and as a neighbor and friend."
Helen Buckley's agency can be reached at (772) 770-0000, and at http://www.helenbuckley.com.