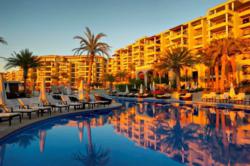 Cabo San Lucas, Mexico (PRWEB) August 08, 2012
Casa Dorada Los Cabos Resort & Spa has unveiled a revamped website that will enhance user experience and bring guests closer to the sunny destination of Cabo San Lucas, Mexico even before their vacations begin.
Visitors to the new CasaDorada.com will be taken on a visual journey that brings the resort and destination experience to life through virtual tours of guest suites, resort facilities, dining outlets and the Saltwater Spa. In addition, guests will be able to get a head-start on their vacation by browsing local activities and learning about the area. An update on weather conditions in Cabo San Lucas, Mexico, Casa Dorada's award-winning brochure and an exciting peek into the resort's many celebrity sightings are all part of the revamped CasaDorada.com
Enhanced features of the new CasaDorada.com include beautiful imagery and easier-to-navigate drop-down menus. Current specials and packages are also displayed throughout the site to ensure that Casa Dorada's exceptional value is always only a click away.
To offer greater connectivity for Casa Dorada's fans and followers, the new website will integrate with popular social media platforms such as Facebook and Twitter, where guests will be able to engage first-hand in the resort's happenings. Visitors will also be able to sign up for celebrity news and special deals through a monthly newsletter.
Casa Dorada's new website is part of the resort's dynamic marketing plan, which also included opening of a new U.S. based sales office in San Diego, California last month. With the objective of reaching out to the American market, German Herrera—Director of Sales and Marketing for Casa Dorada—is now heading the San Diego office in addition to the main sales office in Cabo San Lucas. Los Angeles based Zaring Group is in its fourth year handling public relations for the resort.
Casa Dorada Los Cabos Resort & Spa, located in the heart of Medano Beach in Cabo San Lucas, Mexico, has worked consistently to offer its guests the highest level of service and facilities. Boasting magnificent ocean views from every room, this all-suite Preferred Resort is also within walking distance from Cabo's best dining, shopping, nightlife and activities. With a host of family-friendly features, Casa Dorada is Cabo San Lucas' best option for family vacations, while at the same time offering unforgettable romantic, spa and group getaways.
Contact information for Casa Dorada:
Cabo San Lucas
Office: 52 624.163.5705
Fax 52 624.163.5751
german.herrera(at)casadorada.com
http://www.casadorada.com
U.S. Sales Office / San Diego, CA
1850 Fifth Avenue, Suite 31
San Diego, CA 92101
Mobile Phone: 619.849.9177