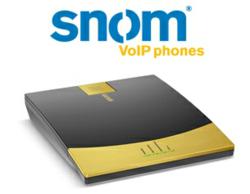 Woburn, Mass. and Berlin, Germany (PRWEB) August 14, 2012
snom technology AG, a leading developer of IP desktop phones and communications solutions, announced today the expansion of its IP PBX portfolio with the snom ONE mini, a remarkably compact business telephony system for the Small Office Home Office (SOHO) market.
The sleek, pint-sized, solid state device supports 20 extensions and offers the full range of snom ONE telephony features, as well as complete support for the award-winning snom IP desktop and wireless phones.
The snom ONE mini is built on standards-based SIP technology and provides resellers with a plug-and-play business telephony solution for small organizations that is pre-installed and configured with snom ONE IP PBX software for easy and affordable deployment with snom business IP desktop phones and endpoints, including the snom 3xx series, snom 7xx series, snom 8xx series, snom m9 DECT phones and snom MeetingPoint conference phone.
"The snom ONE mini addresses a critical need for an affordable, full featured business phone system for the underserved SOHO market;" said Mike Storella, chief operating officer, snom technology, Inc. "The new snom ONE mini is ideal for a small professional services organization such as a real estate, law or consulting firm requiring a fully integrated phone system with a very small form factor and full suite of premier communications features."
The snom ONE mini comes pre-installed with snom ONE IP PBX software, providing the same suite of built-in features and advanced functionality as the larger snom ONE IP PBX, including voicemail and auto attendant, ACD Agent Groups, Web-based management, cell phone integration, remote worker support and other functions.
snom ONE mini Feature Highlights:

Fully integrated business phone system – Works seamlessly with snom 3xx, 7xx and 8xx series phones for easy configuration and management
Compact and reliable solid state design – A small form factor with reliable solid state design and no moving parts
Low power – The snom ONE mini consumes less than one-tenth the power than a typical PC
Network-ready – All-inclusive device requiring no add-on server for network-based services
Standards-based SIP interface – Plug-and-play and seamless interconnection and connectivity with all major SIP trunking and next generation cloud-based SIP trunking services
Failover and disaster recovery – Supports back-up and failover services for existing hosted or on-premise phone systems. snom phones can be simultaneously registered to multiple systems – hosted or on-site – making the snom ONE mini an excellent option for disaster recovery
The snom ONE mini lists for $599.00 and is available worldwide through snom distributors and value-added resellers.
For more information about snom in the Americas, please visit us at http://www.snomchannel.com; follow us on Twitter; like us on Facebook; or join our LinkedIn group.
About snom
snom technology AG develops and manufactures VoIP telephones and related equipment based on the IETF open standard, SIP (Session Initiation Protocol). Recognized for its high-quality, customizable and cost-effective business solutions, snom is also differentiated by the company's history in the VoIP industry and its dedication to high security standards. All of snom's products, from desktop phones to IP PBXs, are designed to be fully interoperable with leading communications equipment vendors. snom customers benefit from the interoperability and flexibility that the snom telephones offer, including plug-and-play integration and universal compatibility with any SIP-based telephony platform. In September 2011, the snom 300 and the snom 821 were the first SIP phones which were officially tested and qualified as interoperable with Microsoft Lync by Microsoft.
Founded in 1996 and headquartered in Berlin, Germany, snom technology AG also has offices in Italy, France, the United Kingdom and the US. For more information on snom, please visit http://www.snom.com.