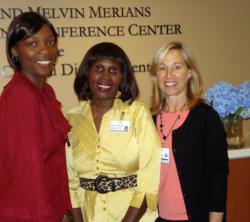 New Rochelle, NY (PRWEB) August 08, 2012
Sound Shore Medical Center, a teaching hospital in Westchester, New York, recently announced that two of its staff members have achieved certification by the National Certification Board for Diabetes Educators. Toyin Modupe, RN, MSN, CDE, a Diabetes Nurse Educator and Susan Rooney, MS, RD, CDN, CDE, a Registered Dietitian and Diabetes Educator, met rigorous eligibility requirements.
Since 1995, Sound Shore Medical Center's Outpatient Diabetes Education Program has been certified by the American Diabetes Association. This recognition means that Sound Shore Medical Center has met the National Standards for Diabetes Self-Management Education, and that the Program healthcare professionals have expertise in providing state-of-the-art information about diabetes management. Ms. Toyin and Ms. Rooney were required to meet extensive academic, professional and experiential criteria before even qualifying to take the written examination.
"We are pleased to provide an ADA-approved Diabetes Education Program for individuals living in the region," said John R. Spicer, President and CEO of Sound Shore Medical Center. "Now all members of our staff are Certified Diabetes Educators, a distinction that insures the highest level of education and support for effective self-management of this chronic disease."
Sound Shore Medical Center's self management education program is a part of its Jacee Lynn Cappelli Diabetes Center for the treatment and education of juvenile and adult diabetes. For more information on Sound Shore Medical Center's Diabetes Self-Management Outpatient Education Program, including the support group, Sweet Talk, please contact the Program Coordinator, Everet Owens at 914.365.4059.
About the company:
Sound Shore Medical Center (SSMC) is a 252-bed, community based, teaching hospital located at 16 Guion Place in New Rochelle, NY. Since its founding in 1892, SSMC has served the diverse medical needs of the surrounding community and region. It is a major teaching affiliate of New York Medical College, member of Sound Shore Health System and is accredited by The Joint Commission, the nation's oldest and largest hospital accreditation agency. On its campus is the 150-bed Schaffer Extended Care Center, which provides 50 beds for short-term rehabilitation patients and 100 for long-term residents. For more information visit their website at http://www.ssmc.org.