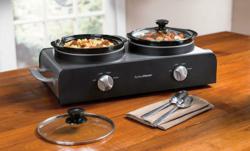 The BrylaneHome® team has expanded its entertainment and electrics collections, making dinner parties and family gatherings even more enjoyable by providing 'splashy' extras that add that special touch.
New York, NY (PRWEB) August 08, 2012
BrylaneHome®, home and lifestyles brand in the portfolio of Redcats' OneStopPlus Group, has significantly expanded its entertainment and electrics offerings, adding a broad collection of creative and innovative products for entertaining guests, as well as rolling out a new line of "BrylaneHome®" branded electrics.
Planning a dinner party takes time and energy to ensure friends and family thoroughly enjoy their visit, so the BrylaneHome® team has thought of all the must-haves for creating a fun and tasty experience to make it easier than ever to entertain. And to help even the most novice host prepare a delicious meal and decorate a beautiful, eye-catching table, BrylaneHome® has the perfect "gold" spread to get the party started, including: 20-piece gold-plated stainless steel cookware set, 40-piece gold dinnerware set, 66-piece gold flatware set with storage case, and gold Jacquard tablecloths and chair covers. From there, special touches include a soup station, fondue maker, serving platters and bowls, and jewel tone glass goblets, all at incredibly reasonable prices that fit into the most conservative budget. Guests will wonder where the event planner is hiding - it's that easy!
In the electrics section, BrylaneHome® will be featuring new branded products, designed and priced to be great values that will rival any assortment. Here are some of the highlights:
BrylaneHome® Panini Maker– Features an even-heating chrome press grill with 9" x 8" cooking surface, grease tray, ready light and a lock & floating hinge.
BrylaneHome® Double Slow Cooker– Talk about convenient! This kitchen helper cooks two separate dishes at the same time, with individual temperature controls; includes two 2½-qt. pots that lift out for easy clean up.
BrylaneHome® Halogen Oven- Easy-to-operate, easy-to-clean multifunctional cooker makes healthy, juicy meals. The halogen oven cooks evenly with air circulating around the food - sears food on the outside, seals juices inside. Compact design bakes, grills, barbecues, fries without oil, steams and defrosts.
BrylaneHome® Mini Waffle Maker– Kids will now know that breakfast truly is the best meal of the day; makes eight 2" round waffles with non-stick plates.
"With our current economic situation, entertaining at home continues to be a popular trend as many consumers invest in small home improvements that add comfort and beauty to their surroundings," said David Milgrom, Senior Vice President, General Brand Manager for BrylaneHome®. "As such, the BrylaneHome® team has expanded its entertainment and electrics collections, making dinner parties and family gatherings even more enjoyable by providing 'splashy' extras that add that special touch."
Visit BrylaneHome.com and order anytime 24/7. Customers can also join the thousands of fans who are following BrylaneHome® on its Facebook and Twitter pages.
OneStopPlus Group is the preferred brand portfolio of women's apparel, shoes, lingerie, men's and home products dedicated to plus sizes. Proprietary brands in the OneStopPlus portfolio include: Woman Within® (WomanWithin.com), Roaman's® (Roamans.com), Jessica London® (JessicaLondon.com), fullbeauty (fullbeauty.com), KingSize® (KingSizeDirect.com), BrylaneHome® (BrylaneHome.com), Bargain Catalog Outlet - BCO® (BCOutlet.com) and OneStopPlus.com®, an online marketplace featuring thousands of brands and products, the #1 destination to shop for plus sizes.
About Redcats USA
Redcats USA is a dynamic, web-driven home-shopping leader with numerous successful brands and specialized e-commerce sites in its portfolio: OneStopPlus.com®, Woman Within®, Jessica London®, Roaman's®, fullbeauty, KingSize®, BrylaneHome®, Bargain Catalog Outlet – BCO®, The Sportsman's Guide® , Bargain Outfitters®, Boating Savings®, Work Wear Savings®, TGW.com - The Golf Warehouse®, Baseball Savings®, Softball Savings® and Soccer Savings®. Redcats USA offers a wide range of value and quality driven merchandise categories, including men's and women's plus-size apparel, home and lifestyle products, and sporting goods/outdoor gear. Redcats USA is a Redcats company.
About Redcats
Redcats is a world leader in the online distribution of fashion, home decoration, and sports and leisure goods. The group distributes its brands and those of its partners on three continents. These brands include La Redoute, Daxon, Vertbaudet, Cyrillus, Castaluna, Ellos, Jotex, Woman Within, Jessica London, Roaman's, KingSize, BrylaneHome, OneStopPlus.com, The Sportsman's Guide and The Golf Warehouse, as well as specialized collections and websites.
In 2011, Redcats turnover totaled €3.048 bn—with 61% generated from online sales—and employed a staff of over 11,000.
All Redcats brands and e-commerce sites can be found at http://www.redcats.com. Redcats is a PPR company.
Contact Information
Karen Davis
Corporate PR & Communications
Redcats USA
Karen.davis(at)redcatsusa(dot)com
212-502-9315