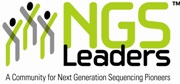 NEEDHAM, Massachusetts –
(PRWEB) August 08, 2012 -- NGS Leaders™ is hosting a free webinar entitled Hybrid Error Correction and De Novo Assembly of Single-Molecule Sequencing Reads. The 60-minute webinar is scheduled for Wednesday, August 8, 2012 at 11:00 a.m. Additional information and registration details are available at http://www.ngsleaders.org/events.aspx.
This webinar will feature a discussion on single-molecule sequencing and its great potential for de novo assembly, despite high error rates that present limitations. Recently, a paper appeared in Nature Biotechnology describing a correction algorithm that has been developed to address the problem. Kevin Davies, founding editor of Bio-IT World and author of The $1,000 Genome, will moderate the discussion.
"As part of our efforts to move science forward and help organizations commercialize their technologies, Cambridge Healthtech Associates™ (CHA) is pleased to sponsor this webinar through NGS Leaders. By providing our customers with the most up-to-date knowledge about changes in this scientific area, we can ensure that the adoption of new sequencing solutions is optimized in the marketplace," said Dawn Van Dam, General Manager of CHA.
If you have important information to share with the NGS Leaders community of scientists, contact Janine Holley, Community Manager, jholley(at)ngsleaders(dot)org.
About NGS Leaders
NGS Leaders™ (http://www.ngsleaders.org) is an online community for people working in next-generation sequencing, genomics, bioinformatics, and related fields. NGS Leaders is managed by Cambridge Healthtech Associates™ (http://www.chacorporate.com) as part of our efforts to educate and inform the scientific community through our consulting, market research and communications services. Members across industry and academia are provided with opportunities to participate in a collaborative information ecosystem to address emerging challenges and network with peers.