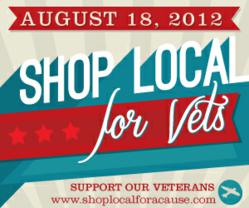 Chandler, AZ (PRWEB) August 08, 2012
TGGF is a non-profit honoring WWII veterans and educating children and adults about their service. This organization is also a featured charity with the NALA, (http://www.theNALA.com), a small business association, launching Shop Local for Vets, the first campaign from Shop Local for a Cause. The NALA provides local business owners business growth opportunities through sales and marketing solutions while connecting to well-run charity organizations. Beltone Hearing Center is one of many of the NALA's businesses throughout the country participating on August 18th.
Please visit Shop Local for a Cause to learn more or to find local businesses participating on Saturday, August 18th. TGGF also has a Text to Donate number; one can donate $10.00 to The Greatest Generations Foundation today, by texting TGGF to 20222.
About Beltone Hearing Center
Beltone Hearing Center is national hearing care company that has been around for 70 Years. The Chandler, AZ location services the following brands: Beltone, Resound, Phonak, Oticon, Starkey, Microtech, Unitron, Widex, Siemens, Rexton, Interton, Bernafon, Sonic Innovations, Audina, Audifon.
About NALA™
The NALA (National Association of Local Advertisers), a small business association, is for local business owners offering new online advertising & marketing tools, great business benefits, education and money-saving programs, as well as a charity program.
Contact: the NALA
Tiffani Tendell
805.650.6121
ttendell(at)thenala(dot)com