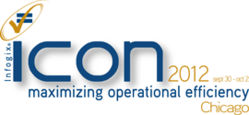 Naperville, Ill. (PRWEB) August 07, 2012
Infogix Inc., a developer of software that helps businesses automate the monitoring and analysis of business data, today announced registration is open for its annual ICON conference. ICON 2012 will provide attendees with opportunities to learn how to improve their business operations through more effective information controls and visibility. ICON 2012 will be held Sunday, Sept. 30 - Tuesday, Oct. 2, 2012 at Chicago's Westin River North hotel.
"The presentations, workshops and networking events at ICON 2012 will focus mainly on how businesses can actually leverage their ever-growing volumes of Big Data and turn all of that information into a resource to help with the decision-making process in their day-to-day operations," said Sumit Nijhawan, chief executive officer, Infogix.
The agenda features several workshops that focus on specific Infogix solutions, and broader topics such as: transforming information into real-time operational intelligence; improving data governance, and how IT can make a case on the business side for upgrading or implementing new systems and software solutions. There will also be breakout sessions for specific industries such as financial services, healthcare, insurance and retail that will address how enterprises can maximize operational efficiency to effectively address their industries' specific trends, challenges and opportunities.
Jan Fields, President, McDonald's USA, will open ICON 2012 on Sunday, Sept. 30 with the first keynote speech. Fields is responsible for the strategic direction and overall business results of the 14,000 McDonald's restaurants in the United States. She has been named to Forbes' list of "The World's 100 Most Powerful Women," Fortune's "50 Most Powerful Women in Business" list, the Wall Street Journal's "50 Women to Watch" list and Crain's Chicago Business' lists of "25 Women to Watch."
Kay Selim, vice president of Reconcilements and Controls, Wells Fargo Bank, will deliver a keynote speech on Monday, Oct. 1. Kay is responsible for the efficient delivery of high quality solutions for our internal and external reconcilement customers for Wells Fargo Bank. An advocate for people development, she is actively involved in the company's mentoring and diversity programs.
Following ICON 2012, Infogix on Oct. 3- Oct. 4 will hold two full days of technical training sessions on all of the solutions that comprise its Infogix Controls Suite (Infogix ACR, Infogix Assure and Infogix ER) and the Infogix Visualization Suite (Infogix Insight,Infogix Perceive and Infogix Nexix). Up to 5.0 hours of Continuing Professional Education (CPE) credits will be available for those attending the conference, and an additional 12.0 hours for those attending the training. All CPE credits are included in the cost of the packages.
To register to attend the ICON 2012 Conference and Training sessions, please visit: http://infogix.com/pages/news/events/iconConference/conferenceSignupForm.aspx.
For more information, contact Crystal Irlandez at +1 (630) 505-5573 or email icon(at)infogix(dot)com.
About Infogix Inc.
Many of the world's largest enterprises depend on Infogix to transform their operations. Through the use of Infogix solutions, customers are able to control, analyze, and improve their operations by realizing the full value of the Infogix Business Operations Management solution. Since 1982, Infogix has been providing Infogix Controls Solutions to Global 2000 enterprises. Millions of Infogix Controls continuously monitor and assure the integrity of information in hundreds of enterprises each day. For more information, call +1.630.649.6800 (U.S, Canada, and International), or visit http://www.infogix.com today.