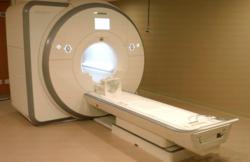 Camden, New Jersey (PRWEB) August 09, 2012
As part of a continuous system-wide effort to drive the "patient experience," Our Lady of Lourdes Medical Center has recently acquired a Siemens' MAGNETOM® Aera 1.5T Open Bore Magnetic Resonance Imaging (MRI) System—a revolutionary imaging scanner that boasts tremendous advances in patient comfort and diagnostic imaging.
While the MAGNETOM Aera is similar to other MRI scanners in the sense that it acquires images using magnets measured in Tesla (T), at 1.5T, the MAGNETOM Aera offers image quality far surpassing standard MRI imaging technology.
With enhanced visual capabilities, the Aera provides expanded access to diagnostic imaging that supports a complete range of clinical applications, including neurology, orthopedics, body imaging, angiography, cardiology, breast imaging and oncology; ultimately allowing physicians to make quicker, more accurate diagnoses.
The Aera's large 70 centimeter open bore—the tube-like structure where the patient lies during the imaging process—provides patients with greater comfort over traditional closed-bore machines and easily accommodates obese patients up to 550 pounds. The system's open structure has also proved effective in lessoning anxiety for claustrophobic and pediatric patients, since many exams can be performed with the patient's head outside of the bore.
"This exciting new system offers a greater level of care to our MRI patients by combining added comfort and convenience to a more streamlined MRI workflow," says Kathleen Greatrex, MD, Chief of Radiology and Nuclear Testing for Lourdes Health System. "The response from patients and physicians has been very positive."
The Aera system is equipped with two exclusive Siemens technologies: Tim™ 4G (fourth generation of Total imaging matrix technology) and Dot (Day optimizing throughput). The combination of Tim and Dot improves the entire MRI workflow by ensuring detailed images for diagnosis and scan, as efficiently as possible.
"This advanced technology delivers excellent images to our physicians so that they can make the most confident diagnosis," she adds.
MRI exams have become one of the fastest growing types of medical diagnostic tests in the United States, with over 20 million performed each year. Using a magnetic field and pulses of radio wave energy to take pictures of organs and structures inside the body, MRI scans offer non-invasive diagnostic images of soft tissues, bone, fat and muscle that have proved successful in the detection and diagnosis of a variety of health conditions, including orthopedic injuries, breast cancer, neurological disorders and cardiac diseases.