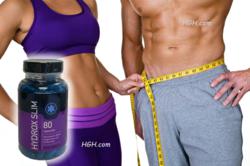 you're going to see your body take an amazing shape that you haven't seen since your teenage years.
Boonton, NJ (PRWEB) August 08, 2012
HGH.com is excited to announce their new Rapid Weight Loss supplement – "Hydrox Slim". Hydrox Slim is a thermogenic compound, which, according to LiveStrong.com is able to facilitate weight loss by increasing metabolism and simulating exercise due to its positive effects on body temperature.
Hydrox Slim contains ingredients that combine to make an effective stack for increasing the burning of fat in the body (similar to the use of the ephedrine / caffeine / aspirin stack) and helping to suppress the appetite. This pill is a must for shedding the pounds quickly and safely. Lose weight in as little as 3 weeks.
Hydrox Slim has similar ingredients to other fat burners and weight loss pills on the market, but it is set apart from the competition in its price, availability, and proprietary formula that gives it the leading edge over the competition. Further, HGH.com has additional product offerings that when stacked with Hydrox Slim can have a synergistic effect and not only help you lose weight, but simultaneously put your body in the shape and tone that you're looking for. Hydrox Slim is also available in a packaged "3 Week Rapid Weight Loss" product exclusively produced by HGH.com that combines it with Clen XDV.
Dan Smith from HGH.com said, "We're very excited about Hydrox Slim. We know the results are as advertised and people are going to love it. Not only will they lose weight and lose it quickly, but if you want to stack it with Clen XDV or even HGF Max or ANA-GH, you're going to see your body take an amazing shape that you haven't seen since your teenage years."
Hydrox Slim is available today only at http://www.hgh.com. For 10% off your order for a limited time, you can use coupon code "Hydrox". For more information on Hydrox Slim, Clen XDV, or other weight loss or fat burning products, go to http://www.hgh.com.
About HGH.com
HGH.com has been creating and selling proprietary vitamin, weight loss, bodybuilding, and HGH supplements for over 10 years, with a focus on HGH, bodybuilding, and weight loss products specifically. HGH.com is known for constantly updating their formulas with new scientific and technological advancements which gives them the leading edge products month after month.
LiveStrong.com information on Thermogenics: http://www.livestrong.com/article/104906-thermogenics/