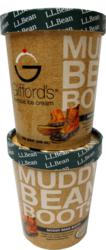 Now fans of L.L.Bean Muddy Bean Boots ice cream will be able to enjoy it at home all year long.
Skowhegan, ME (PRWEB) August 08, 2012
Responding to unprecedented customer demand this summer at ice cream stands, Gifford's Ice Cream is packaging its popular L.L.Bean Muddy Bean Boots ice cream in quarts for retail sale.
Gifford's partnered with L.L.Bean earlier this year to create Muddy Bean Boots in honor of the outdoor retailer's 100th Anniversary.
Beginning August 13, Muddy Bean Boots will be available in quart containers at all Hannaford supermarkets, and availability will quickly expand to include additional supermarket and grocery chains throughout New England, New York state, New Jersey, Maryland, and eastern Pennsylvania. Quarts will also be on sale at Gifford's five ice cream stands in Maine.
"Muddy Bean Boots has been an instant success at our stands. The new flavor sold out on opening day in March, and demand for Muddy Bean Boots remains strong and is higher than I've ever seen for a new flavor," said Gifford's Ice Cream Vice President of Sales Lindsay Gifford-Skilling. "Now fans of the flavor will be able to buy Muddy Bean Boots in quarts at grocery stores and enjoy it at home all year long."
Muddy Bean Boots is made with Gifford's award-winning Old-Fashioned Vanilla ice cream, criss-crossed with sweet caramel ripple and tossed with rich chocolate brownie bites.
Press Conference Announcing Launch of Muddy Bean Boots
Gifford's Ice Cream and L.L.Bean will celebrate the grocery store launch of Muddy Bean Boots with a press conference including remarks by Maine Governor Paul LePage at the Hannaford store on Route 1 in Scarborough, Maine, on Monday, August 20, at 1pm.
Following remarks by Governor LePage and representatives from Gifford's Ice Cream; L.L.Bean; Oakhurst Dairy, Gifford's sole supplier of fresh milk and cream; and Hannaford, the public is invited to sample Muddy Bean Boots and enjoy free activities and entertainment until 3pm.
"It's terrific to see the response to Muddy Bean Boots," said L.L.Bean Partnership Marketing Manager Kelly Warsky. "What started as a partnership to celebrate L.L.Bean's 100th anniversary will continue to be produced right here in Maine and enjoyed all year long."
Muddy Bean Boots was first introduced in March at Gifford's five family-owned stands in Maine, and in a still growing number of independent stands, restaurants, colleges, universities, hospitals and hotels throughout New England, New York, New Jersey, Maryland, Washington, DC and Virginia.
L.L.Bean and Gifford's Ice Cream are donating a portion of the proceeds from the stand and foodservice sale of Muddy Bean Boots to support Healthy Hometowns, a non-profit Maine-based program that engages young people and their families in active, healthy lifestyles through outdoor recreation. Gifford's will also donate a portion of proceeds from the retail sale of Muddy Bean Boots to Healthy Hometowns.
About Gifford's Ice Cream
Gifford's Ice Cream sources its fresh cream and milk exclusively from independent family farms in Maine. The fifth-generation, family-owned company relies on antique 1940s Cherry Burrell freezers, coupled with a state-of-the-art freezing system, to achieve its ice cream's award-winning, creamy texture and fresh-churned consistency. Gifford's Ice Cream uses only the finest ingredients, including nuts, berries, fruits, premium chocolate, imported vanilla extract and pure, all-natural Maine maple syrup. It has earned numerous international and national "First Place" and "World's Best" awards for Gifford's premium ice cream and sherbet, and continues to expand its distribution and offerings. Visit Gifford's at http://www.giffordsicecream.com and http://www.facebook.com/GiffordsIceCreamMaine.
About L.L.Bean, Inc.
L.L.Bean, Inc. is a leading multichannel merchant of quality outdoor gear and apparel.  Founded in 1912 by Leon Leonwood Bean, the company began as a one-room operation selling a single product, the Maine Hunting Shoe. While its business has grown over the past 100 years, L.L.Bean still upholds the values of its founder, including his dedication to quality, customer service and a love of the outdoors. To celebrate the company's centennial, L.L.Bean is reigniting America's passion for the outdoors, with donations of nearly $3 million to organizations that engage young people and their families in outdoor recreation. Over the past 10 years, L.L.Bean has given nearly $26 million to local, state, regional and national conservation, human service, education and arts organizations.  L.L.Bean products are rigorously tested, guaranteed to last and always shipped free The 200,000 sq. ft. L.L.Bean retail store campus in Freeport, ME, is open 24 hours a day, 365 days a year and welcomes more than 3 million visitors every year. L.L.Bean can be found worldwide at http://www.llbean.com, Facebook, Twitter and YouTube.