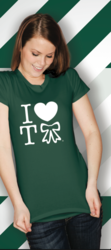 It all started with a sign at a Gator game in 2009. We wanted to get on TV and came up with the T Bow design. People went crazy! I decided then and there to trademark it and form a small company. The rest is history!
Gainesville, Florida (PRWEB) August 08, 2012
If you're following star quarterback Tim Tebow on his journey to the New York Jets, there are six new ways you can show your support. TBow® Tees is now offering a full line of Jets color theme merchandise just for ladies. Shirts, hats, jewelry, pins, scarves and mugs are among the new offerings available. The clever logo shows the world "I Heart T and a ribbon tied into a bow". "I Heart T Bow®"
You probably recognize the now famous "I Heart T Bow®" logo. It started on a sign that Lori Evans and her daughters made to show their affection for the Gator quarterback, whose faith and leadership became an inspiration to his fans. An avid Gator fan, Lori held up the sign from her front row seat at the January 2009 BCS National Championship game in Miami. She hoping to be shown on TV so the kids could see their parents at the game. Her husband was embarrassed, but held it up anyway. To her surprise, their T Bow® image was an immediate sensation. Fans all around her were taking pictures and she saw it on the Jumbo-Tron several times that night.
The logo made such an impression that Lori decided to trademark it and market it to Gator fans on a T-shirt. Then it was onto the pros. Denver was the first stop and now she's on to New York. The logo remains the same with new items and looks constantly being added. "Wherever Tebow goes, his fans go", Lori says, noting that sales have remained consistent.
Are you following Tebow? TBow Tees will keep him next to your heart. Moreover, a portion of every purchase supports the Tim Tebow Foundation.
About TBow Tees
Established in 2009, TBow Tees features ladies shirts and accessories for Tim Tebow fans.
We Support The Tim Tebow Foundation
TBow Tees
14260 West Newberry Road
No. 327
Jonesville, Florida 32669
p 352.332.8806
http://www.TBowTees.com
Lori(at)TBowTees(dot)com