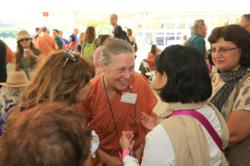 Everyone has the opportunity and responsibility to make better the vessel…of their life
Los Angeles, CA (PRWEB) August 08, 2012
Journeying from all over the U.S. and over 45 other countries, more than 4,000 yogis congregated recently for a powerful week of spiritual rejuvenation. The 2012 World Convocation of Self-Realization Fellowship (SRF), held July 29 to August 4 at the Westin Bonaventure Hotel in downtown Los Angeles, featured the teachings of renowned spiritual figure Paramahansa Yogananda (1893-1952), SRF founder and author of the celebrated spiritual classic Autobiography of a Yogi.
During the week-long event, SRF monks and nuns led classes, satsangas (informal talks), group meditations, kirtans (devotional chanting), and Kriya Yoga ceremonies. Special video presentations, with subjects including Paramahansa Yogananda's return visit to India (1935-1936) and reminiscences by direct monastic disciples of Sri Yogananda's mahasamadhi (a God-realized yogi's final conscious exit from the body), were also shown during the event.
Presented by longtime monastics of SRF, the event's "How-to-Live" classes (open to the public) revealed practical, inspiring guidance on a range of topics. During the opening talk, "Creating Harmony: The Secret Principles of a Successful, Fulfilling Life," Brother Santoshananda provided guidance on how to embody principles that create balance and harmony in our individual lives, thus improving the world at large. "This world is not perfect and cannot be perfect unless we make ourselves perfect," said Brother Santoshananda.
One of two speakers on Friday evening, SRF President Sri Mrinalini Mata –– one of Yogananda's foremost disciples and personally trained by him –– urged audience members to focus on the inner work needed to make our life an environment that is conducive to success on every level, from physical to spiritual. "Everyone has the opportunity and responsibility to make better the vessel…of their life," said Sri Mrinalini Mata.
Other "How-to-Live" topics included: finding soul-guidance to navigate life's challenges; becoming a giver of peace, joy, and loving-kindness; and utilizing the sacred science of Kriya Yoga to gain freedom from unwanted habits.
Throughout the week, many embarked on pilgrimages to spiritual sanctuaries established by Paramahansa Yogananda in Southern California, including: the Lake Shrine in Pacific Palisades; the international headquarters of Self-Realization Fellowship, on Mt. Washington near downtown Los Angeles; the SRF Hollywood Temple; Sri Yogananda's crypt at Forest Lawn in Glendale; and the SRF Retreat and Hermitage in Encinitas (25 miles north of San Diego), where Sri Yogananda wrote most of his inspiring life story, Autobiography of a Yogi.
ABOUT SELF-REALIZATION FELLOWSHIP
In 1920, Paramahansa Yogananda founded Self-Realization Fellowship, his worldwide spiritual and humanitarian organization, to disseminate his teachings. Headquartered in Los Angeles since 1925, SRF also publishes the complete works of Sri Yogananda and his monastic disciples. Today, SRF and its affiliate organization in India, Yogoda Satsanga Society of India, has more than 600 temples, retreats, and meditation centers in over 60 countries around the world.
Self-Realization Fellowship, 3880 San Rafael Avenue, Los Angeles, CA 90065
tel. (323) 225-2471, fax (323) 225-5088, http://www.yogananda-srf.org.