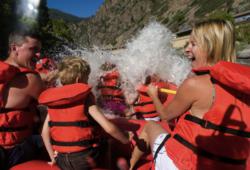 People are still having fun and rafting is still going on, but visitors just have to be a little more diligent in how they find the right trip rafting in Colorado.
Buena Vista, CO (PRWEB) August 08, 2012
One of Colorado's best summer activities is getting out on its beautiful rivers, but the statewide drought has lowered water levels and spurred talk of a "bad" whitewater rafting season in Colorado.
The situation potentially causes visitors to miss out on the fun but with just a bit of information, it's easy to plan and execute a great river rafting Colorado adventure this season, according to John Cantamessa, owner of Colorado Adventure Center and vice president of activity operations.
Tip 1: Choose your location
There is still enough water for a fun rafting experience in most of the state's popular areas. Some rivers flow for rafting activities all year, but visitors should be willing to research and possibly travel a little farther to get to a whitewater rafting trip on one of the higher-flowing rivers in the state.
"Obviously we're in one of the worst drought years on record for the state of Colorado and it has affected water flows," Cantamessa said. "So while people are still having fun and rafting is still going on, visitors have to be a little more diligent in how they find the right raft trip."
Consider the Colorado River near Glenwood Springs river rafting, which offers higher flows due to energy needs at the nearby Shoshone Power Plant. The section is fun, splashy and perfect for first-time rafters and families. Adventurous paddlers should look to Gore Canyon on the Colorado River.
Tip 2: Adjust your expectations
Rivers are a great way to explore some of Colorado's most beautiful backcountry that's not accessible by car, bike or foot. And that's reason enough to be out on the water for a day.
"If you're going to raft on the Arkansas River or Clear Creek, realize it's less of a whitewater rafting trip and more of a river trip," Cantamessa said. "It's still fun, you still get out in the canyons, still get to enjoy the Colorado sunshine, still get a chance to spot wildlife but don't expect high-adrenaline whitewater this year."
The river is a great place to appreciate time with family and friends that's not interrupted by modern technology. It's an opportunity slow down and enjoy the state's unsurpassed natural beauty and raft Colorado.
Tip 3: Choose your Watercraft
A low water year is a good time to consider upping the ante by choosing an adventurous watercraft. Standard raft sizes run 14 feet in length, but Cantamessa suggested smaller options to increase the excitement level. Rent an inflatable kayak or try a stand-up paddleboard (SUP). These surfboard-style boards really challenge balance so gentle river flows are best for beginners.
Most importantly, visitors should keep their minds open to outdoor adventure trips on the rivers, Cantamessa said.
"People may have heard there's no more rafting, that the water's all gone but that's not true," he said. "There are good, positive experiences out there for everyone no matter what type of Colorado white water rafting trips you are seeking ."
About Colorado Adventure Center
Glenwood Springs-based Colorado Adventure Center is the parent company of Highside Adventure Tours, Good Times Rafting and Rock Gardens Rafting, offering whitewater rafting trips on Clear Creek and the Colorado, Arkansas, and Blue rivers in the central part of the state. Ziplining trips are conducted under Glenwood Canyon Zipline Adventures and Colorado Canopy Adventures in Idaho Springs. The company has offices in downtown Breckenridge, Idaho Springs, Buena Vista and Glenwood Springs. Visit on the web at http://www.RaftingColorado.com and http://www.ZippingColorado.com.