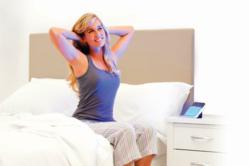 Using The Square One's blue light therapy can maintain a healthy sleep cycle and gives you energy when needed throughout the day
Irvine, CA (PRWEB) August 14, 2012
Nature Bright, one of the top light therapy companies in the world, introduces its newest innovation, The Square One Wake Up to Light Therapy. This portable and sleek product emits a powerful blue light that stimulates the metabolism and regulates the body. Using The Square One's blue light therapy can help maintain a healthy sleep cycle and provides energy when needed throughout the day. Designed by the renowned social designer Yves Behar, The Square One brings a new usage to Light Therapy that will suit any bedside stand or flight cabin table.
Keeping energy and alertness levels up throughout a long day is difficult for almost everyone. People turn to coffee and/or napping, but caffeine can induce anxiety and can be disruptive to sleep. Napping is not always feasible in a working environment and may induce the detrimental effects of sleep inertia. However, blue light exposure is a more natural means of treating excessive daytime sleepiness related to sleep loss.
Dr. Chris Idzikowski, President of the Royal Society of Medicine Sleep Section and Nature Bright's Senior Adviser, explains the importance of light to the quality of sleep and how alert we are when we're awake, "Light is vital to our health and well-being. In addition to helping us to see, light regulates our 24 hour body clock, keeps us alert, elevates mood and can help improve productivity and safety. Getting a regular light-dark cycle is important for maintaining a good sleep-wake cycle and keeping our metabolism in synch. Recent research has shown that blue light is particularly effective at helping maintain high levels of alertness and regulating our body clock. Blue light stimulates special light-sensitive cells in the eye that help signal whether it's day or night and wake up the brain. Keeping a regular light-dark cycle, with bright days and dark nights, is the key to good sleep, good alertness and good health."
The Square One's stimulating effect is also ideal in aviation, where a pilot's alertness is vital. On July 9, 2012, Lori Brown, Professor and Research Scientist at Western Michigan University, College of Aviation, presented light therapy as a form of Fatigue Risk Management at the Aviation Outlook conference in Shanghai China. The top decision makers of the industry listened to Professor Brown indicate that pilots, flight attendants, and air traffic controllers can benefit from regular use of the Square One's blue light therapy.
On November 9, 2012, The Square One will be presented to 10,000 mental health professionals at the US Psychiatric and Mental Health congress. As the newest light therapy product on the market, the Square One will debut to those who research, diagnose, and treat Seasonal Affective Disorder and other types of depressions – most commonly treated by blue light therapy.
For more information on The Square One Wake Up to Light Therapy, visit http://www.naturebright.com.
For press inquiries, please call:
Ann Huang
800-622-0231
info(at)naturebright(dot)com