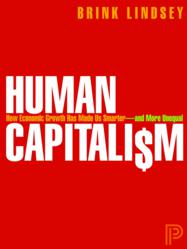 Kansas City, MO (PRWEB) August 08, 2012
The growing divide between those enjoying economic prosperity and those struggling to make ends meet is a subject that commands conversation among politicians, pundits, scholars, journalists, economists and the like. But the means for narrowing the gap have proved elusive.
In his new e-book, HUMAN CAPITALISM: How Economic Growth Has Made Us Smarter – and More Unequal, Kauffman Foundation senior scholar Brink Lindsey explores the reasons behind today's economic disparity and, more importantly, suggests actions that may help to improve the situation for future generations. Released today, Lindsey's e-book original is the first for Princeton University Press.
Greater investment in "human capital" is critically needed to stem the divide between society's haves and have-nots, according to Lindsey. He argues that the gap between elites and the rest of the population can best be explained by the ever-growing complexity of modern economies and the barriers to acquiring the skills (human capital) needed to not only survive but thrive in a new economic landscape.
In short, today's economic complexity is making the elite richer – and smarter. Lindsey explains: "As the economy makes ever-greater demands on their minds, the successful are making ever-greater investments in education and other ways of increasing their children's human capital, expanding their cognitive skills and leading them to still higher levels of success.
"But unfortunately, as the rich are securely riding this virtuous cycle, the poor are trapped in a vicious one where a pattern of family breakdown, unemployment and dysfunction leads to further erosion of knowledge and skills."
Lindsey's research shows that while high-skill jobs are rewarded, mid-level jobs are increasingly automated or outsourced, further widening the gap. Simply retraining workers or teaching skills doesn't address the underlying issues of cultural divisions and polarization that permeate the economy. Fueling the polarization is the resentment of those on the lower end who don't want to hear that the world has changed and that they need better jobs.
To redeem the promise of human capitalism, Lindsey says it is necessary to restore the connection between rising complexity and rising human capital across the socioeconomic spectrum. His recommended solutions include:

maintain growth through policies that encourage entrepreneurship and innovation;
reform K-12 education by unleashing competition;
step up experiments with early childhood interventions that can compensate for disadvantaged environments;
combat social exclusion of low-skilled adults through low-wage job subsidies, changes in disability insurance and penal reform to reduce mass incarceration;
improve higher education by limiting tuition subsidies; and
reform land-use regulation and occupational licensing to facilitate upward mobility.
The e-book is available for $4.99 (ISBN: 9781400845729) from Princeton University Press. An expanded hardcover edition of the book will be published in spring 2013.
"Rising income inequality is an issue society can no longer afford to ignore. This book deepens our understanding of the forces behind the problem and is bound to stimulate useful discussion of it." ― Robert H. Frank, author of The Darwin Economy
About the Author
Brink Lindsey is a senior scholar in Research and Policy for the Ewing Marion Kauffman Foundation, where he uses his expertise in international trade, immigration, globalization and economic development to identify the structural reforms needed to revive entrepreneurial innovation, firm formation and job creation in the wake of the Great Recession. An accomplished author, Lindsey has written several books, including The Age of Abundance: How Prosperity Transformed America's Politics and Culture; Against the Dead Hand: The Uncertain Struggle for Global Capitalism; and, with Daniel Ikenson, Antidumping Exposed: The Devilish Details of Unfair Trade Law. His writings also have been published widely in major newspapers and leading policy magazines, and he has appeared frequently on television and radio.
About the Kauffman Foundation
The Ewing Marion Kauffman Foundation is a private nonpartisan foundation that works to harness the power of entrepreneurship and innovation to grow economies and improve human welfare. Through its research and other initiatives, the Kauffman Foundation aims to open young people's eyes to the possibility of entrepreneurship, promote entrepreneurship education, raise awareness of entrepreneurship-friendly policies, and find alternative pathways for the commercialization of new knowledge and technologies. In addition, the Foundation focuses on initiatives in the Kansas City region to advance students' math and science skills, and improve the educational achievement of urban students, including the Ewing Marion Kauffman School, a college preparatory charter school for middle and high school students. Founded by late entrepreneur and philanthropist Ewing Marion Kauffman, the Foundation is based in Kansas City, Mo. and has approximately $2 billion in assets. For more information, visit http://www.kauffman.org, and follow the Foundation on http://www.twitter.com/kauffmanfdn and http://www.facebook.com/kauffmanfdn.