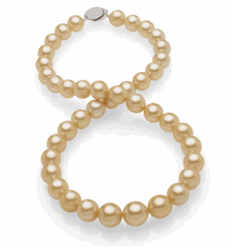 New York, NY (PRWEB) August 07, 2012
In the world of pearls, one stands out from the rest in terms of rarity and color saturation. The illustrious golden pearl, rarely seen yet highly coveted by collectors the world over, is the subject of awe and inspiration in the exclusive organic gem circle. Today, American Pearl is honored to present its new extraordinary Golden South Sea Pearl Harvest Collection for discerning pearl aficionados. Destined to become its most sought after line ever, the evolution of these one-of-a- kind pearls is a tale spun from pure gold.
Indigenous to Australia, The Philippines and Indonesia, the Pinctada Maxima oyster yields this natural treasure. Expert pearl grafting technicians meticulously implant a tiny sliver of the magnificent mantle tissue that surrounds the Pinctada Maxima oyster's mouth perimeter. This sliver gently coerces the oyster's mother of pearl bead to begin the formation of a pearl. According to American Pearl, "the artistic, precise mantle sliver is what ultimately allows this oyster to deliver the highly saturated, vivid golden pearl."
The pearls boast a rich, vibrant 24 karat color hue that attests to the highest color saturation available on the market. American Pearl invites you to visit their showroom, or browse their secure website, AmericanPearl.com to witness its spectacular new Golden South Sea Pearl Harvest Collection that it is newly bringing to market.
About American Pearl:
In business since 1950, American Pearl has become synonymous with unsurpassed pearl jewelry designs. Always a leading innovator and trend setter, American Pearls unwavering commitment to providing you with the absolute best pearls at the absolute best prices has consistently put them in the forefront of the pearl jewelry business for over half a century.
For more information, please visit http://www.americanpearl.com/golsoutseape2.html.