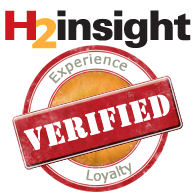 Clearwater, Fl (PRWEB) August 09, 2012
Arthur Rutenberg Homes is pleased to announce its partnership with H2Insight to provided real time customer reviews. Why ARH? Ask our customers. Now you can read their feedback.
H2Insight conducts surveys at key points in the customer experience to help their clients proactively address questions and concerns with little or no delay. As a trusted, third-party and industry leader, you can be assured the reviews represent real people who are real customers.
About Arthur Rutenberg Homes
Arthur Rutenberg has been a respected name in Florida homebuilding since 1953, when he built his first home upon the four "cornerstones" that would make him legendary: design, craftsmanship, service and responsibility. Today, Arthur Rutenberg Homes, Inc. is one of the largest networks of independently owned and operated homebuilding companies in the nation, with franchised homebuilders throughout Florida, North Carolina and South Carolina. For further information, contact Gabriella Nelms at 727-536-5900.
###