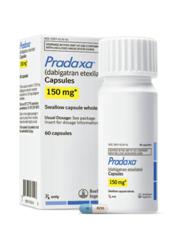 (PRWEB) August 08, 2012
The law offices of d'Oliveira & Associates currently are seeking clients who have been injured by the blood-thinning drug, Pradaxa. d'Oliveira is offering a "no win, no fee guarantee" to these victims and their families; meaning that you don't pay, unless a settlement is successfully negotiated, or the case is won at trial.
Manufactured by Boehringer Ingelheim, Pradaxa is a type of anticoagulant ("blood thinner") used to help prevent strokes or serious blood clots in people with atrial fibrillation, an irregular heartbeat that can increase a patient's risk of heart failure and stroke.
The U.S. Food & Drug Administration (FDA) approved Pradaxa in October 2010. However, statistics show that Pradaxa may not have deserved approval. According to the Institute for Safe Medicine Practices, since being released on the market, Pradaxa has had more adverse events reported to the FDA than any other drug. Specifically, this includes more fatalities and reports of internal bleeding than any drug. Perhaps even more concerning, the number of adverse events linked to Pradaxa are three times greater than its alternative treatment, Warfarin.
Attribution: http://www.ismp.org/quarterwatch/pdfs/2011Q4.pdf
Though Pradaxa was heavily marketed and advertised to be a superior form of treatment to Warfarin, the statistics suggest otherwise. In addition to the large disparity between the numbers of complications, bleeding caused by Pradaxa, unlike bleeding caused by Warfarin, has an antidote. With Warfarin, bleeding may be ceased through the use of Vitamin K. However, Pradaxa bleeding has no antidote.
All of these Pradaxa complications have led to numerous lawsuits throughout the country. With all these lawsuits being filed in many locations throughout the country, both sides have asked the courts to consolidate all the cases into what is known as multidistrict litigation. The purpose of this is to resolve all the claims quickly and efficiently, considering that all these claims will involve the same issues of fact.
The majority of claims in the current Pradaxa lawsuits revolve around the manufacturer's placement of a product into the market that is defective in some way. The drug's defectiveness may be determined, among other things, by an improper design in the drug which caused these terrible side effects, and/or the manufacturer's failure to warn patients and medical providers of the serious side effects associated with the use of the drug.
The attorneys at d'Oliveira & Associates urge any one who has been injured by Pradaxa to contact them immediately. They are working with some of the leading dangerous drug attorneys in the country who are handling these cases. They want to ensure that all potential Pradaxa clients understand that there is absolutely no fee unless a settlement is reached, or an award is won.
For a free legal consultation, call 1-800-992-6878 or visit their website at Pradaxa Lawyer