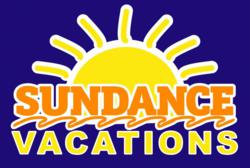 Wilkes-Barre, PA (PRWEB) August 09, 2012
Sundance Vacations, a national travel company specializing in discount vacation accommodations, is offering its Dream Giveaway promotion to all Carbon County Fair visitors. The 2012 fair begins on Tuesday, August 7th and continues through Saturday, August 11th in Palmerton, PA.
The grand prize winner of Sundance Vacations' annual sweepstakes will have the option to select a luxury vehicle of their choice valued at up to $70,000 or receive $50,000 in cash. The vehicle that will be on display this week at the Carbon County Fair is a 2013 Chevrolet Malibu Eco provided by Brodheadsville Chevrolet.
Fair visitors will also have the chance to win other prizes such as a fantasy trip to Hawaii, Orlando or Pebble Beach including airfare, hotel accommodations and spending cash; a high-definition LCD television; a prepaid credit-card worth $1,000; a winner's choice Sports/Music package that includes four tickets worth up to $1,000 to a sporting or music event, or one of three different Sundance Vacations packages worth $15,000 each. Complete contest rules and entry materials will be available on site.
"Sundance Vacations is very happy to be involved with Carbon County Fair," said John Dowd, President of Sundance Vacations. "This fair takes place in our community. We look forward to meeting fair visitors and introducing Sundance Vacations to those who may not know us."
About the Carbon County Fair:
Admission to the Carbon County Fair is $5.00 per person, and children under 10 are free. There is free parking and free entertainment for fair goers.
The Carbon County Fair was created to showcase the animals and projects of the youth in Carbon County & West Penn Township. The Fair assists participating Lion and Lioness Clubs in raising funds used to support community projects, sight programs and other Lions projects. The Carbon County Lion/Lioness Fair Association, Inc. is in its 13th year. For more information, visit http://www.carboncountyfair.com.
About Sundance Vacations:
Sundance Vacations is a national travel company that was founded locally in 1991 by John and Tina Dowd. The company specializes in discount vacation accommodations at destination golf, beach, ski and mountain resorts throughout North America and the Caribbean. Sundance Vacations is headquartered in Wilkes-Barre, Pennsylvania and maintains offices in four other locations including; King of Prussia, PA; Harrisburg, PA; Downers Grove, IL and Rockaway, NJ. Sundance Vacations has been named one of the Best Places to Work by Best Companies Group four times in Pennsylvania, three times in Illinois and once in New Jersey. The company has been honored three times as one of the Fastest-Growing Travel Companies in Pennsylvania by Inc. 500/5000. Please visit Sundance Vacations at http://www.sundancevacations.com.