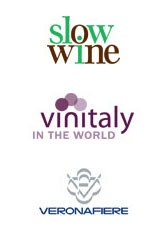 New York, NY (PRWEB) August 13, 2012
For the first time ever Slow Food Editore, the publisher of the Slow Wine Guide, an English guide to Italian wines, will collaborate with Vinitaly International. This joint showcase will aim to offer American wine trade 2013's most comprehensive two days of Italian wine tasting and education in the US. The first collaborative event will be held at New York City's Tribeca Rooftop and Three Sixty° on Tuesday, January 28th followed by a second event in Miami on Wednesday, January 30th (location to be determined).
"The Slow Wine guide is a new, fresh way of evaluating and presenting wineries and wines," said Giovanni Mantovani, CEO of Veronafiere (owner of the Vinitaly brand). "We and Slow Wine each provide unique strengths and perspectives on Italian wines; together we'll create a compelling day of Italian wine tasting for the American wine trade and press."
"Vinitaly is an iconic name in the world of Italian wine, a truly global ambassador for the Italian wine scene," said Marco Bolasco, CEO of Slow Food Editore. "We feel that by joining efforts Vinitaly and Slow Wine will be able to offer the US wine trade the most diverse Italian wine experience: from lesser-known and sustainability oriented artisanal winemakers to Italian wine icons."
About Veronafiere
Veronafiere is the leading organizer of trade shows in Italy including Vinitaly, the largest wine event in the world. In March, 2012, over 4,200 exhibitors showcased their wines to 140,000+ visitors (35% from outside of Italy representing over 120 countries) from the wine trade world as well as wine lovers. Veronafiere created Vinitaly International in 1998 to develop an international platform for the promotion of companies in the Italian wine and food sectors. Today, Vinitaly in the World travels to many of the most important wine markets in the world including China, Japan, Russia and the United States. Visit us at http://www.vinitalytour.com.
About Slow Wine
The Slow Wine Guide, published by Slow Food Editore (the publishing arm of Slow Food Italy**) adopts a new approach to wine criticism and looks at a variety of factors to evaluate wineries in their entirety, taking into consideration the wine quality, typicity and adherence to terroir, value for money, environmental sensitivity and ecologically sustainable viticultural practices.
**Slow Food Italy is the Italian national branch of Slow Food International, a global grassroots organization that envisions a world in which all people can access and enjoy food that is good for them, good for those who grow it and good for the planet. A non-profit member-supported association, Slow Food was founded in Italy in 1989 to counter the rise of fast food and fast life, the disappearance of local food traditions and to encourage people to be aware about the food they eat, where it comes from, how it tastes and how our food choices affect the rest of the world.
The Slow Wine 2013 US tour will also include consumer tastings in New York and Miami as well as a third event in a city yet to be announced.