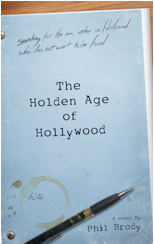 Phil Brody weaves a tale through all the madness that is Hollywood with a voice of season, integrity, and hilarious sarcasm.
Aurora, IL (PRWEB) August 08, 2012
Described as The Player meets Ready Player One, Phil Brody's The Holden Age of Hollywood is at once a detective novel, unexpected love story, and provocative exposé of a broken industry. With dark humor and incisive commentary, the novel immerses readers in a neo-noir quest to attain the Hollywood dream, integrity intact.
The Holden Age of Hollywood follows a disillusioned development exec and belligerent savant in his obsessive quest to find the one writer in Hollywood who does not want to be found. Chock-full of movie industry lore, the glamour of today's Hollywood, and modern relationships, the fast-paced, plot-driven story appeals to all ages.
Phil Brody has worked as a caddy, knife salesman, award-winning shirt folder at Gap, waiter, actor (okay, extra), and Chicago ad exec. One day he began moving in the left direction, which turned out to be the right direction, and ended up in LA, where he's worked as a copywriter, development exec, writer's assistant, and writer-producer-director of documentaries on Discovery Channel, National Geographic, and Food Network. The Holden Age of Hollywood is his first novel.  
Venture to the book's website, TheHoldenAgeOfHollywood.com, a rabbit hole of interactive material engaging readers beyond the pages. The Holden Age of Hollywood is available now everywhere books are sold.