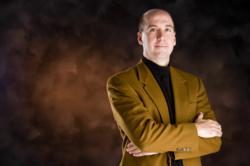 The future belongs to those who create it.
New York, NY (PRWEB) August 08, 2012
The rapid advancement of technology has already redefined how we live and work, but the speed of advancement is itself increasing. The Internet, social networks, crowd-sourcing, gaming dynamics, new information and communication technologies, robotics, biotechnology, and nanotechnology are now converging to transform everything from agriculture, energy, education, and law enforcement to health care, manufacturing, retail, and transportation in some surprising and disruptive ways. In his new book, futurist Jack Uldrich applies some "20/20 foresight" to tomorrow's opportunities—and threats.
Written in an engaging and easy-to-read style, "Foresight 20/20" is accessible to any reader who is interested in understanding how technology will continue to change our lives. The book is also a catalyst to begin thinking about what discussions and actions we need to have today to be ready for the world of tomorrow.
In "Foresight 20/20," professional futurists and business forecasters Jack Uldrich and Simon Anderson have developed eleven scenarios designed to aid the reader in understanding how a variety of technological trends are transforming the world. For example:

3d Printing: How can rapid prototyping and "an app store for things" bring manufacturing back to the United States.
Education: What will the workforce of tomorrow look like when students can learn anywhere and anytime from the best professors?
Healthcare: What if your smartphone could quickly and accurately diagnose any health issue you may have?
These trends, and many others including robotics, gaming dynamics, as well as the incredible advancements in simulated intelligence, are illustrated in a series of interesting and engaging scenarios. The futures outlined are both exciting and scary, positive and negative, and prosaic and profound; but each chapter ends with a series thought-provoking questions designed to help the reader better understand how each trend applies to their own lives.
As Cervantes said centuries ago, "Forewarned, forearmed; to be prepared is half the victory." Foresight 20/20 goes one step further and not only prepares the reader for victory but also instills the confidence necessary to create tomorrow's victories. So, if you're interested in applying some foresight to your business and life, "Foresight 20/20: A Futurist Explores the Trends Transforming Tomorrow" is now available in hardcover (http://www.amazon.com/Foresight-20-Futurist-Explores-Transforming/dp/1592984835/) and ebook (http://www.amazon.com/Foresight-2020-Futurist-Transforming-ebook/dp/B008OXVAF4/).
The time to start thinking about tomorrow is today. Don't delay!
Book Information:
Foresight 20/20: A Futurist Explores the Trends Transforming Tomorrow
By: Jack Uldrich and Simon Anderson
Publish Date: Aug. 2012
Hardcover: $19.95, 120 pp., Size: 5.5" x 8.5"
ISBN: 978-1-59298-483-1
Ebook: $4.99
Publisher:
Beaver's Pond Press, Inc.
7108 Ohms Lane
Edina, MN 55439
(952) 829-8818
http://www.BeaversPondPress.com
About the Authors:
Jack Uldrich is an acclaimed global futurist, best-selling author, and compelling keynote speaker. His past works include, The Next Big Thing Is Really Small: How Nanotechnology Will Change the Future of Your Business; Jump the Curve: 50 Essential Strategies to Help Your Company Stay Ahead of Emerging Technologies; and Higher Unlearning: 39 Post-Requisite Lessons for Achieving a Successful Future. He is the founder of and "Chief Unlearning Officer" of the School of Unlearning – an international consultancy designed to help organizations' success tomorrow by unlearning today. Uldrich was worked with many of today's leading corporations and organizations, including General Electric, 3M, Cisco, WiPro, and United Healthcare. He has also keynoted hundreds of conferences, annual meetings, seminars and strategic planning sessions. Learn more about Jack at http://www.jumpthecurve.net
Simon Anderson is a professional futurist, speaker, startup entrepreneur, and change management and emerging technology consultant. He is the founder of Futur1st.com, a site dedicated to helping business leaders adapt to and embrace emerging technology, and having traveled to twenty countries, he brings a global perspective to his work. Simon is the co-founder of student services company NoleTrader.com and the resident futurist and strategy consultant of education technology company afirekindled.com. Learn more about Simon at http://www.Futur1st.com