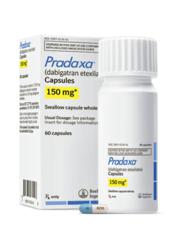 (PRWEB) August 08, 2012
The United States Judicial Panel on Multidistrict Litigation (JPML) will soon be deciding the fate of the current Pradaxa bleeding lawsuits. According to documents filed by attorneys for the defendant (Boehringer Ingelheim), there are currently 47 Pradaxa cases spread across 21 different federal district courts (Multidistrict litigation MDL – 2385).
The decision the JPML has to make is whether to consolidate all of these current cases, and if they do, which district court the consolidation will take place in. Though neither side disagrees that, if these cases are to proceed to trial, the numerous cases should be consolidated, they do disagree on the location.
Pradaxa, considered a "blockbuster" drug, is a blood-thinner that is prescribed to patients with non-valvular atrial fibrillation. The U.S. Food & Drug Administration (FDA) approved Pradaxa in October 2010. However, the Institute for Safe Medicine Practices reports that, since its approval, Pradaxa leads all other medications in total number of deaths and bleeding incidents reported to the FDA. Not surprisingly, many of these fatalities and severe injuries are the basis for the current lawsuits against the manufacturer.
According to documents filed by attorneys for the numerous plaintiffs, the claims/allegations made against the defendant include:
· Pradaxa is a defective drug
· The Defendants did not conduct adequate testing of Pradaxa
· The Defendants had knowledge of Pradaxa's defective condition
· The Defendants failed to adequately warn of the dangers associated with Pradaxa; including:
· Failing to warn that there is no reversal agent by which to reverse the anticoagulation effects of Pradaxa.
· Failing to warn that it is impossible to monitor Pradaxa levels in the blood.
Very recently, on July 26, 2012, the JPML heard oral arguments for both sides on the issue of consolidation. A decision is expected from the panel soon.
Although none of the current plaintiffs are being represented by, or were referred by, d'Oliveira & Associates, the attorneys at d'Oliveira currently are working with some of the leading dangerous drug attorneys who are handling these Pradaxa cases. However, d'Oliveira & Associates has received numerous calls concerning Pradaxa, and have referred a client who currently is pursuing legal action against Boehringer. They are also currently looking for more cases for anyone who may have been severely injured, or died, because of the use of Pradaxa.
For a free legal consultation, call 800-992-6878 or go to Pradaxa Lawyer Website