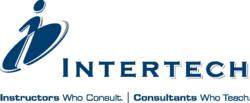 With a growing number of mobile devices accessing our site, our customer base would benefit from an Intertech iPad application
Saint Paul, MN (PRWEB) August 09, 2012
Intertech (http://www.Intertech.com) announces the Intertech iPad application. Intertech's iPad application is soon to be available in the iTunes App Store.
Intertech offers iPad consulting in its full suite of iOS application development consulting services. Intertech provides full application development outsourcing and onsite consulting.
"Along with application development services, we've found customers have base questions on the whole process of getting an application into the iTunes App Store. For this reason, Intertech also provides consulting services to guide customers through the process of working with Apple from provisioning to device and application id's," said Ryan McCabe, Intertech Partner.
"With the growing use of the iPad in the business space, we've seen an uptick iPad development. This, combined with the millions of hits our site receives with a growing number from mobile devices, made us realize our own customer base would benefit from an Intertech iPad application," stated McCabe.
Along with the aforementioned services, Intertech also provides guidance and consulting on leveraging patterns like Model-View-Controller (MVC) in the iOS application design, extending the application with features like AirPrint, and accessing existing systems through RESTful web services.
Along with iOS consulting, Intertech offers training on iPhone application development.
Intertech's iPad application is expected to be available to users at no cost starting in September 2012.
About Intertech
Founded in 1991 by local entrepreneur Tom Salonek, Intertech, Inc. has grown from a one-person shop to the largest combined software developer training company and research-supported consulting firm in Minnesota. Intertech designs and develops software solutions that power Fortune 500 businesses along with teaching these and other organizations including mid-sized companies and state government.
Intertech works with NASA, Wells Fargo, Lockheed Martin, Microsoft, Intel, and other major companies around the United States helping them learn and use technology. Intertech is a Microsoft Gold Partner, a Microsoft Inner Circle member, an eight time winner of the Best Places to Work in Minnesota award from the Business Journal, the top mid-sized firm to work for by Minnesota Business magazine, a finalist in the Wall Street Journal's Winning Workplaces award, a multi-year winner of the Inc. 500 and the Inc. 5000 awards for company growth, a winner of the Forbes ASAP growth award, and a winner of the Minnesota Fast 50 growth award. Intertech has been featured in Inc., Forbes, Upsize magazine, the Star Tribune, the Business Journal, the Pioneer Press, the Hudson Star-Observer, Minnesota Business, and Twin Cities Business Monthly.