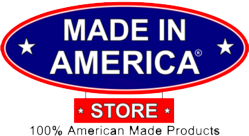 We want you to feel good about buying the Wigwam brand because we've set a standard of integrity that we strive to live up to everyday
Elma, New York (PRWEB) August 08, 2012
The Made In America Store is will be attending the Erie County Fair for a third year in a row and the all US made store has some promotions going on. It's no secret that Wigwam Socks and the Made In America Store have been working together for quite some time again to bring consumers more awareness and some special offers. This year, Wigwam Socks bring an opportunity to receive additional socks.
For the individuals who are visiting the Made In America Store, both at the Erie County Fair and in store at their location of Elma, New York, can take the opportunity to receive a free pair of Wigwam Socks after purchasing three pairs. That being said, if a consumer were to buy four pairs of Wigwam Socks, the cheapest of the four pairs will deducted from the total, making them free! This offer applies for in store purchases and Erie County Fair purchases, until August 19th.
The Made In America Store has been working with Wigwam since the store's opening in 2010. Since then, the Made In America Store has promoted Socks For Soldiers, Made In America Mondays and multiple coupon offers to encourage people to look into Wigwam Socks.
'Socks For Soldiers' gave customers the opportunity to benefit the active military on duty overseas. For every pair of Wigwam Socks purchased at the Made In America Store, Wigwam Socks donated a pair to the soldiers, making it a perfect promotion that everyone could feel good about. Although the 'Socks For Soldiers' promotion is only from time to time, the Made In America Store always carries a container if any customers wish to donate socks.
'Made In America Mondays' is a monthly promotion brought to everyone through the Made In America Store and Wigwam socks. Consumers interested can visit the Made In America Store's Facebook page and participate by answering a simple question. Those who participate are entered to win 3 free pairs of Wigwam socks!
"Like" the Made In America Store on Facebook for up-to-date news, promotional offers and much more!
Wigwam is known for manufacturing the highest quality socks in the industry. It's Ultimax technology moves moisture from the bottom up and is patented to Wigwam. Wigwam isn't limited to one fiber and had many options to choose from when designing and manufacturing their socks. With their manufacturing plant only yards away from the corporate offices, Wigwam has excellent quality control as well.
"We want you to feel good about buying the Wigwam brand because we've set a standard of integrity that we strive to live up to everyday," says Robert Chesebro, Owner and CEO of Wigwam Mills Inc. "Since 1905, my family has been committed to our employees, our community and making fine quality socks just for you."
In addition, Wigwam's manufacturing process is environmentally friendly. The state of the art factory has worked with local utility companies to limit their carbon footprint and be more efficient by installing solar panels on top of their facility to heat their water. The water is used to wash the dye from the socks and to heat some of the factory. Also, motion sensory lights were installed to limit the amount of power wasted and needed inside the facility.
The Made In America Store is located at 900 Maple Road in Elma, New York and is committed to selling 100% American manufactured products. You can visit http://www.MadeInAmericaStore.com for more information or shop our catalog of over 3,500 products from over 290 vendors that are devoted to producing USA made products. All US military personnel, both active duty and veterans, receive a discount every day. Consumers can also keep up to date news articles, events, photos and contests with Facebook, Twitter, Google+, Pinterest and Tumblr!