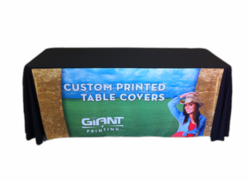 "The vast majority of custom printed Table Covers are supplied with random colors imprinted on random colored fabric," Howard Stevens, owner of Giant Printing said, "but we take a different approach with this product."
Austin, Texas (PRWEB) August 08, 2012
Businesses across the country are standing out among their competition at trade shows and events thanks to the new Eco Table Throw from Giant Printing's Table Cover product line.
"The vast majority of custom printed Table Covers are supplied with random colors imprinted on random colored fabric," Howard Stevens, owner of Giant Printing said, "but we take a different approach with this product."
Giant Printing's custom printed Eco Table Throws are unlike other Table Covers because they are printed on environmentally friendly, high-quality fabric using a special 4-color process. Pantone colors can sometimes appear lackluster or unlike the original when printed, but Giant Printing's unique process keeps a brand's specific Pantone colors vivid and authentic.
Logos, photos and other images can often be distorted or blurry when replicated. Giant Printing's process can take any image used on a brochure or other marketing materials and print it clearly on the Eco Table Throw.
High-quality, image-based Eco Table Throws are ideal for trade shows, meetings, farmers markets and anywhere else a business needs to be noticed. Custom printed Eco Table Throws are environmentally friendly, machine washable, wrinkle resistant, flame retardant, lightweight and easy to transport in a briefcase or bag.
"[We] loved working with Giant Printing [and] love our new tablecloths. [They] have helped transform our trade show booth," said Monique Deschaine, Al Dente Pasta.
Giant Printing provides customers with the highest quality Banners, Backdrops, Table Runners, Banner Stands and more for trade show and meetings. For more information on Giant Printing and their products, visit http://www.giantprinting.com.