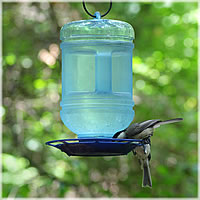 Bird feeding is the key to helping save our wildlife, mainly birds, during the current drought conditions... Do your part and act now!
Lititz, PA (PRWEB) August 08, 2012
As the drought across the U.S. continues to put a strain on parched landscapes and fields, it is also having a major effect on wildlife, mostly birds. Just the other week USDA Secretary, Tom Vilsack, declared over 55% of the nation's land was in poor to very poor condition. Sadly, we can't do much about making it rain. However, we can be responsible to those birds who are desperately seeking a source of water by taking the hobby of bird feeding seriously.
Take advice from industry leader Perky-Pet®. They suggest a few sure-fire options to help protect and preserve our feathered friends.
The first choice is obvious - provide water. Place bird waterers, such as the NEW Perky-Pet® Bird Water Cooler or the Perky-Pet® Droplet Waterer in a partly shaded area in your yard. This will help the water cool on these extremely hot summer days. Other options for providing water would be bird baths or bird feeder and waterer combinations such as the Sip and Seed Feeder.
Birds are not only searching for water, but food. Because of the drought many areas, such as the wetlands and forests, are dry and barren. Creatures, as well as vegetation occupying these land areas, have died, thus depleting yet another source of food. This is why utilizing bird feeders is that much more important in a time like this.
If you already own a bird feeder, consider putting out two or three to accommodate a larger variety of birds. Make sure to keep them full of seed and properly cleaned for optimal bird health.
If you do not own a bird feeder, visit your local retail store, or pick one up instantly online at Birdfeeders.com. Perky-Pet® has the largest, most versatile selection of wild bird and hummingbird feeders around. From small to large, simple to advanced, you'll find exactly what you need from this trusted brand that's been serving bird hobbyists since 1958.
Which brings up the next point... hummingbirds are in just as much danger. As southern migration time approaches, sources for the energy they need to make their long journey grows dim. So fill the feeders you have now with freshly made nectar, or pick up two or three feeders to place in your yard and help these tiny creatures survive the treacherous trek south.
Another option for helping birds during the drought is to make sure the plants and trees around you are consistently watered and thriving for birds to rest in, or eat from. Birds use all types of greenery to do many things such as protecting themselves from predators, shelter from the elements, and they also enjoy eating from many fruit bearing types as well. Making sure the flora and fauna are healthy for birds to utilize is very important for their survival.
This applies to hummingbirds too! Typically they prefer to get nectar from flowering plants and vines. However, if these plants are dry and non-flowering they will seek other options, such as feeders. This is where you come in, by providing them fresh, clean nectar.
There is so much we can do to help, but time is running out for many of our wildlife and now is the time to act. Perky-Pet® is a long-time, trusted brand that offers birders of all levels, everything they need. It's time for us to step up and offer our feathered friends the helping hand they deserve... wouldn't you agree?
About Perky-Pet®
Perky-Pet® brand is a trusted name to bird lovers, with high quality, functional feeders that address the demands of both bird hobbyists and enthusiasts alike. A good resource for just about every wild bird need is right at your fingertips. Visit the Perky-Pet® website http://www.birdfeeders.com to learn more about bird watching, bird feeding tips and tools, and ways to attract birds. Perky-Pet® is a registered trademark of Woodstream Corporation, a long-standing, privately-held company and leading manufacturer of quality-branded rodent control products, caring control products for pets and wildlife, natural solutions for lawns and gardens and wild bird feeding products.
# # #