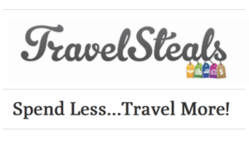 Travel deals pop up everyday, but deal sites like TravelSteals.com make those deals more available and easier to find.
Reston, Virginia (PRWEB) August 29, 2012
Travel deal websites need and want to get their deals in front of their potential customers. Aggregators want their visitors to get the best travel deals. The reason for this is that the combination of these websites is perfect for travelers, travel site aggregators, and the travel deal websites themselves.
Websites like TravelSteals.com are always on the lookout for new travel deal websites to add to their aggregators. The more travel deal sites being aggregated, the more deals TravelSteals.com has to offer to its readers.
Of course, TravelSteals.com won't just accept any website to aggregate. TravelSteals.com knows that aggregating deals from poorly run travel deal websites is never a good idea. There are many travel deal websites that offer expired deals, minimal discounts, and even outright scams.
Because of this, TravelSteals.com thoroughly investigates each website before adding it to its aggregator. Once on the site, the travel deal website will need to continue to provide high quality deals or the staff at TravelSteals.com will remove them from their feeds. This helps keep their readers safe and makes it easier for them to quickly find great travel deals.
Many people might think that TravelSteals.com's strict adherence to only using quality websites might reduce the number of websites they have in their feeds, but this just isn't the case. Quality travel deal websites flock to TravelSteals.com because they know that when their deals are listed in TravelSteals.com, they will only be listed next to deals from other quality websites.
The high quality of the deals also brings in more web savvy travel seekers. Frequent travelers know that whether they are looking to find a great deal on a Central America vacation or the latest European vacation deals, they can find it at TravelSteals.com.
They also know that finding these deals on TravelSteals.com will be easy. TravelSteals.com has placed all of its best travel deals into relevant categories. This means that people looking to vacation in the United States don't have to look through the latest travel deals in Mexico. As a result, travelers who visit TravelSteals.com often find the best travel deals in half the time it takes other travelers to find them.
Travel deal sites will always be looking to find new partners to aggregate their best deals. However, the best travel deal sites will always lean towards placing their high quality offers on websites like TravelSteals.com
To see why TravelSteals.com is constantly attracting the best travel deal websites to offer deals on their website, please visit TravelSteals.com.
###