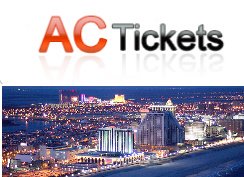 Atlantic City New Jersey (PRWEB) August 09, 2012
Atlantic City, NJ, has always been one of the best places to go for entertainment, but this summer is going to be one of the best ever.
ACTickets has just got new tickets for all the hottest shows like The Who, Madonna, The Eagles, Jackson Browne, American Idol Live, Melissa Etheridge and more. ACTickets has also just got new tickets for the hit live show Cirque du Soleil – Dralion at the Boardwalk Hall. Whether it be comedy, rock and roll, heavy metal, oldies, soft rock, live entertainment or anything in between there is a show for that in Atlantic City.
With over 30 years of ticket brokering experience ACTickets promises the best experience possible at the show and getting the tickets for the show. ACTickets is happy to offer same day delivery to any show, concert or sporting event in the Atlantic City area. ACTickets does the best to make sure that there is no hassle in getting ther tickets fast and before the show starts.
ACTickets will beat any competitor's price above or at the face value of the tickets without any questions asked, and most importantly will not add any service charges after the purchase of tickets. ACTickets's friendly staff is here to help and assist in getting the best seats available for any budget. Sold out or hard to get tickets is what ACTickets specialize in. From Atlantic City to Las Vegas and around the world, if you want to see it ACTickets can put you in the seats.