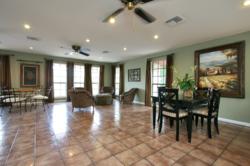 "Truly a jewel in the West San Antonio market."
San Antonio, TX (PRWEB) August 08, 2012
RJF-Joe Newton, LLC has selected Finlay Management, Inc for the management of the Granite at Tuscany Hills. Previously known as the Venetian, the 264-unit apartment community was renamed as part of the takeover, rebranding program. It enjoys a prominent location along Culebra Road near the award-winning master planned community of Westover Hills and just around the corner from a 900,000 square foot power retail center and minutes from the upscale Ingram Park Mall.
According to Lisa Catlett, Finlay's Vice-President of Texas Operations, the Granite at Tuscany Hills is "truly a jewel in the West San Antonio market." She points to the two swimming pools and full size basketball and tennis courts as examples of the luxury available to the residents.
She explains that the property was designed and decorated to be to be reminiscent of Italian residences, with oil-rubbed bronze fixtures and wide plank wood-look flooring. Each home has an open balcony and a private entrance. The entire community is nestled among natural heritage trees.
Says Chris Finlay, Finlay Management CEO, "We look forward to becoming an active part of the San Antonio community as we expand our management services throughout the area."
Finlay Management, Inc. is a multifamily property management firm with a thirty-year history in market-rate apartments, affordable housing, and senior living. With offices in Texas and Florida, it focuses on fee management throughout the Southeast and Texas. The company is actively expanding and seeking third-party management opportunities. For more information, visit http://www.finlaymanagement.com.