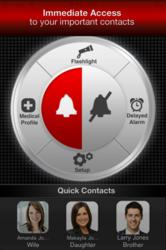 Atlanta, GA (PRWEB) August 08, 2012
iHelpPlusApps.com announces the release of their first app, iHelpPlus™ a new personal safety device for iPhone users of all ages. Featuring customizable alarms, built-in flashlight, GPS tracking to identify your exact location and much more, iHelpPlusApps.com establishes a new standard for personal protection with the iHelpPlus™ app.
Developed with safety in mind, iHelpPlus™ provides the user with the option to choose from a 1-5 second countdown alarm or create a custom alarm for any activity. Once the alarm has been triggered, a distress message will be sent to a pre-selected emergency contact with their current location and request to contact the local police for assistance.
Additionally, the app includes an option for users to store four quick contacts reachable at the push of a button, as well as the ability to add personalized medical information about themselves such as allergies, medications, special needs etc.
"We're very excited to bring iHelpPlus™ to the App Store," says iHelpPlusApps.com COO Shane Neighbors. "Law enforcement officials are already utilizing thee app, and we believe it will integrate into people's day-to-day lives very easily as well. The one-touch-click features and affordable pricing model make this app a must for people looking for peace of mind."
With the added ability to upgrade to a full service monitoring system, iHelpPlus™ is the ideal to have on hand when going for a run, leaving campus, walking down the stairs or traveling. The app is now available exclusively in the U.S. App Store for $.99 within the Lifestyle category.
App Store: http://itunes.apple.com/us/app/ihelpplus-personal-alarm-panic/id537514084?mt=8
Press Kit: https://www.dropbox.com/sh/5ngwdmts380gxjg/G5vf6IKD8v
###
About:
iHelpPlus™ is a brand of products provided by iHelpPlusApps.com and Two Guys from Manhattan Inc. that aims to empower individuals in their day to day lives. iHelpPlusApps.com was started by two Enterprise Software Engineers with over 30 years of combined software experience. The goal of iHelpPlusApps.com is to provide security and easy contact applications for mobile devices at an affordable price point. The first application iHelpPlus™ Backup Assist created for law enforcement released May 2012 allows for quick request of backup assistance in a discreet manner and now with the iHelpPlus™ itself being released for security conscious individuals the suite of mobile applications is growing.