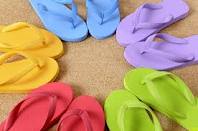 Flip flops are the most popular shoe of summer. They're easy to slip on, easy to slip off--but unfortunately they make your feet more susceptible to pain and injury.
Rhinebeck, NY (PRWEB) August 08, 2012
People love to set their feet free in the hot lazy days of summer….but this can lead to significant foot problems later on down the line.
Individuals are especially at risk if they have foot health conditions, such as plantar fasciitis, bunions, or complications related to diabetes, which can become aggravated when the temperature soars.
Here are steps recommended by Toprical BioMedics, the makers of Topricin Pain Relief and Healing Creams, for avoiding or reducing the severity of foot health problems.
An important basic step is to protect feet by wearing proper, foot-friendly shoes. Unfortunately, some of the most popular summer shoes are also the worst for feet. Here's a rundown of the ones people should walk away from.
THE WORST OFFENDER: FLIP FLOPS
Fashionable thongs made of colorful rubber or glamorously bedecked with sparkling glitter, flip flops remain one of the most beloved shoes of summer. They're easy to slip on, easy to slip off, and—unfortunately--they also make feet more susceptible to pain and injuries.
Here are some of the reasons flip flops should not be worn, or at least not worn for any length of time. (They're fine if you're just lounging by a pool or at the beach, but not out pounding the pavement.)
--Flip flops offer no support for your arch. In fact, continuous walking in flat-soled footwear may cause the calf muscle to stretch, resulting in the Achilles tendon getting strained. Also, wearing shoes without support on a regular basis can knee, hip and back problems.
--Because flip flops are thin and flimsy, feet hit the ground with more intensity/greater impact, which is more jarring to bones and joints.
--Flip flops can aggravate foot deformities such as bunions and hammertoes, and also contribute to such painful conditions as plantar fasciitis.
--Flip flops leave feet totally exposed, making them vulnerable to cuts and scrapes. In addition, their thin soles are easily punctured by shards of glass, nails, splinters, etc., opening the door to more injuries.
--Flip flops and other backless shoes cause toes to "over grip" in order to keep them on the feet, which can throw the wearer's gait and balance off kilter, increasing the risk of tripping by as much as70%.
--Not only are flip flops typically not made in an environmentally conscious fashion, their rubber soles are porous, which makes them a breeding ground for funguses, bacteria, and other germs. This unhealthy environment can lead to athlete's foot, warts, and other unpleasant conditions and infections.
--The thin rubber thong between the toes causes friction, which can result in irritation, blisters and abrasions between the toes that may become susceptible to infection. Diabetics should be particularly wary of wearing flip flops if they have disease-related neuropathy because they won't be able to feel any irritation until there is a significant problem.
When it comes to easy and breezy summer shoes, sandals would be a better choice. Flip flop devotes should be sure to invest in a good, well-constructed, quality pair that offers support and wear them sparingly in the right circumstances.
OTHER OFFENDING FOOTWEAR
BALLET FLATS: For a while now sweet little ballet flats have been en vogue. They are cute, with a sole as flat as a pancake…Which means that they have the same problems as flip flops in terms of lack of support.
SNEAKERS SANS SOCKS: The right sneaker or athletic shoe offers great support and comfort. But don't ditch socks in the summer or it will create an environment that's friendly to breeding bacteria.
RUBBER/PLASTIC "CLOGS": This style of shoe has become wildly popular for both adults and children, but is not meant for long-term, real-world wear. Unless you have purchased a name brand expensive pair, your feet may be in for all kinds of bacteria/fungus issues. And be forewarned, there have been news reports over the past several years that individuals wearing soft-soled clogs--especially children--are getting their toes caught in escalators, and suffering from minor to major injuries as a result.
TIPS FOR HAPPY, HEALTHY FEET
--Swelling in the lower extremities may be a sign of poor protein assimilation. If you suffer from swollen feet and ankles, try switching from meat, poultry and fish to more bioavailable proteins like whey and legumes. Staying hydrated by drinking plenty of water can also help reduce swelling due to heat.
---Diabetics often suffer from swelling feet, and have a tendency to have more pressure inside their foot which is said to be the cause of initial skin breakdown and lesions. The best course of action they can take is to see their primary care physician and podiatrist on a regular basis and keep their blood sugar under control. Elevating their feet and icing them are helpful, followed by applying Topricin after the cold therapy.
--Sweaty feet are not only uncomfortable, but can lead to health issues because it makes feet more susceptible to infections. Most people do not hydrate sufficiently enough and their body temperatures will normally rise, depending upon their level of activity. Water also regulates your body's natural internal temperature—which equals less sweating. In addition to drinking plenty of water, try using talc-free powders and natural deodorants, such as "crystal" deodorant, on your feet. You may also want to take your shoes off periodically throughout the day so your feet can "air out."
--Maintain a balanced PH. Some simple, natural ways are to take the supplement acidophilus; immerse feet in hot water with a combination of Epsom salts and natural apple cider vinegar. (Vinegar corrects PH on skin, helps reduce itching, and neutralizes fungus; Epson salts help draw out toxins and neutralize fungus as well. In addition, Epson is very soothing for muscle aches and joint pain.)
--Avoid eating nightshade vegetables (tomatoes, peppers, eggplant, white potatoes) and gluten (especially wheat, barley and oats). Nightshades can aggravate inflammation and gluten ups the histamine response, which causes an allergic response to the gluten.
--Apply Topricin Foot Therapy Cream evenings and mornings, and periodically during the day to maintain happy, healthy, pain-free feet. Topricin helps to reduce swelling because of its role in helping the body detoxify and remove excess fluid from the underlying supportive tissue. In addition some the natural biomedicines in the formula have antifungal and antibacterial properties.
--See your doctor or podiatrist immediately if you have concerns about any foot issues.
ABOUT TOPICAL BIOMEDICS
Topical BioMedics is the research and development leader in topical patented natural biomedicines for pain relief. The company's flagship product, Topricin® Pain Relief and Healing Cream, was introduced in 1994 and is now a leading natural therapeutic brand. A combination homeopathic formula, Topricin was awarded a patent for the treatment of pain associated with fibromyalgia and neuropathy. Other formulas in the product line include Topricin Foot Therapy Cream and Topricin Junior for children (with 5% sales donated to pediatric cancer foundations).
All Topricin products are made in the U.S.A., formulated with approved medicines as found in the HPUS (Homeopathic Pharmacopoeia of the United States) and are in compliance with federal rules for homeopathic over-the-counter medicines. The products contain: no parabens, petroleum or harsh chemicals, are odorless, greaseless and non-irritating, and produce no known side effects, making them ideal and safe for the entire family. For more information, visit http://www.topricin.com.
SOURCES:
Topical BioMedics
Everyday Health
WebMD
eHow
Consumer.org
Drcibrian.com
Timesunion.com
Emedicinehealth.com
Everydayhealth.com