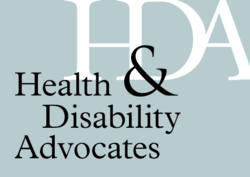 The importance of interventions in the earliest years of life of children with special health needs cannot be overstated. —Amy Zimmerman, Project Director
Chicago, Illinois (PRWEB) August 08, 2012
Health & Disability Advocates applauds Governor Quinn and Senator Heather Steans and Representative Robyn Gabel for working to pass a law that will enhance early intervention (EI) services for infants and toddlers with disabilities.
The goal of the Early Intervention Services System Act (SB 820) is to make it easier for young children with special needs to receive the services they need to live full and integrated lives. The new law establishes key requirements for implementing the 2011 Federal Regulations for the Part C Early Intervention Program for Infants and Toddlers with Disabilities, and includes standards for delivering quality services in the child's natural environment and codifying a smooth transition to preschool programs for children receiving early intervention services.
Amy Zimmerman, Project Director at Health & Disability Advocates, has spent her legal career focusing on issues that impact children. Her expertise includes children's health advocacy, program and policy analysis and community-based partnerships. As an experienced attorney and leader of one of the nation's first "medical-legal partnerships" for children, Ms. Zimmerman is quick to praise the newly amended law.
"The importance of interventions in the earliest years of life of children with special health needs cannot be overstated. I see huge potential for improving communication, collaboration and coordination on behalf of children with disabilities and their families. We look forward to working with the Governor's office and the legislature to ensure that all young children receive the services and supports they need to develop and transition throughout their educational career," Zimmerman says.
Each year, Ms. Zimmerman's project, The Chicago Medical-Legal Partnership for Children, provides free direct legal assistance to families medically complex children in Cook County at four partner sites: Lurie Children's Hospital, La Rabida Children's Hospital, Friend Family FQHC and the University of Chicago's Comer Children's Hospital. The project has a successful track record for using law to improve health outcomes in children with special health care needs.
Health & Disability Advocates will attend a signing ceremony today at John. J. Pershing West Middle School, located at 3200 S. Calumet Ave. in Chicago. SB 820 was officially signed into law by Illinois Governor Quinn on Monday, August 6, 2012.
Health & Disability Advocates is a national organization, based in Chicago, Illinois, that promotes income security, work and educational opportunities, and improves healthcare access and services for vulnerable populations, including children, people with disabilities and low-income, older adults. Its team of legal and policy experts provides a range of services including individual legal representation and custom trainings and technical assistance to consumers, businesses, service providers and state agencies.