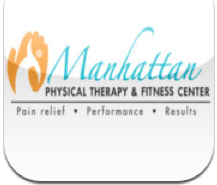 New York, New York (PRWEB) August 20, 2012
How can physical therapist cash in on the 38 billion mobile app market phenomenon? The stats have shown that by 2013, mobile phones will over take PC's as the most common web access device. As a matter of fact, according to Nielson, 30 million consumers watch TV content through their mobile phones.
But how can this help your private practice grow? With a physical therapy business app, more patients can find your location, information about the services you offer, your contact information, and even make payments or schedule an appointment immediately through the app.
In today's world, the more convenient you make it for your patient to schedule with your practice, the higher your new patient and returning patient volume will be.
Manhattan Physical Therapy has done this for their clinics. With their app in the Android Marketplace and iPhone App Store, more of their patients have been referring friends and family with the touch of a button.
"At first I thought, yeah this is a great idea but the cost to create the app must out weight the benefits. To my surprise after being live on the apple store for 1 day, we had a walk in who found our services while visiting NYC", says Joseph Simon, owner of Manhattan Physical Therapy.
Most clinic owners wont take a risk on new technology. But, you must adapt to the changing face of healthcare. Dr, Joseph Simon has been on the forefront of this new advancement and has been innovating new treatment techniques as well as new marketing strategies to help his clinic make it through these tough economic times.
For more information on how to create your own app for your private practice, clinic, training facility, feel free to email Dr. Joseph Simon at manhattanphysicaltherapy(at)gmail(dot)com. You can also download the free app and contact him via the app.