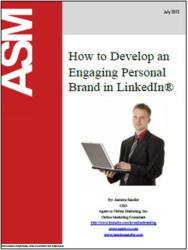 (PRWEB) August 10, 2012
ASM, a leading provider of marketing training, recently published a white paper written by Jasmine Sandler, President of Agent-Cy Online Marketing, Inc., which outlines how to develop an engaging personal brand in LinkedIn®. The white paper can be downloaded free of charge by visiting the Association of Strategic Marketing website.
LinkedIn® is the ultimate B2B online personal branding tool for business owners, executive management, business professionals and sales professionals. LinkedIn® has 70+ million decision makers in its network. With this volume of salespeople fighting for target attention, it is nearly impossible to make a personal brand impression. Instead of a whole lot of trial and error, Jasmine has outlined proven tips which will make the reader's LinkedIn® profile and presence effective for generating a strong and memorable personal brand.
Without a consistent, memorable and strong personal brand, users of LinkedIn® searching for someone will be unable to find the right person. Further, because of the high volume of competition in LinkedIn®, a boring or incomplete profile will almost assure that people will quickly skip by and onto the next qualified candidate. Finally, people must work daily to strengthen personal brand voice within the LinkedIn® system, or slowly disappear from the rankings and importance of LinkedIn®, similar to how web sites with stale content are never seen.
About the Association of Strategic Marketing:
The Association of Strategic Marketing (ASM) is a training and development website dedicated to the enhancement of the marketing profession. ASM is committed to the specific educational and developmental needs of members looking for unique, up-to-date marketing training opportunities through audio conferences, seminars, webinars and articles. ASM members also gain access to product offerings and other educational tools that assist in securing their position at the forefront of their respective disciplines. ASM delivers an overall experience that gives their community of marketing professionals a distinct competitive advantage.