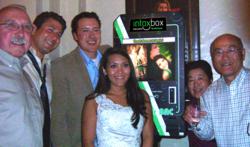 IntoxBox is lining up licensed event operators to handle the growing demand.
Minneapolis, MN (PRWEB) August 09, 2012
Already a popular attraction in bars, night clubs and festivals, the IntoxBox Breathalyzer Kiosk is garnering a growing demand among event planners for wedding receptions, corporate gatherings, reunions, conventions, and holiday parties.
Millions of Americans attend events each year where alcoholic beverages are served, then head for home wondering whether they're really safe to drive. With increasing enforcement of DUI laws, event sponsors have started to recognize the value in offering an IntoxBox for their guests to help them drink responsibly.
The IntoxBox has already proven to be a welcome addition at many events. "We've seen lines 20 to 30 deep at some of the events we've attended," said Ryan Walden, president of Walden Innovative Resources, LLC (WIR), which manufactures the IntoxBox in Minnesota.
EXPANDING NATIONALLY
WIR, which has placed the IntoxBox in leading bars and night clubs in 18 states, is beginning to line up licensed event operators to handle the growing demand for the interactive breathalyzers by event planners. "With the holiday season coming up, we anticipate a big demand for the IntoxBox for corporate and private parties," said Walden.
The business model is similar to photo booths, which have become increasingly popular at wedding receptions and other events. There are more than 2,000 photo booth operators in the U.S., and WIR hopes to emulate their success with the IntoxBox—and may even use photo booth operators to make that leap. "This would be an ideal product line extension for photo booth operators, DJ, music and karaoke services, caterers, event planners, wedding photographers and videographers, party rental services and other professionals involved in the events business," says Walden.
Operators can charge $400 to $700 per event for an IntoxBox rental. It takes only a few minutes to set it up, and it is designed as a self-serve kiosk so an operator does not have to be present for guests to take the BAC test.
The IntoxBox has a 19-inch touchscreen monitor that guides users through an interactive testing process. It also invites users to guess their score before they test, then graphically compares the guess to the score after the user takes the test. The patented IntoxBox fuel cell sensor module is specially designed to stand up to repeated use with no drop-off in accuracy.
DOUBLES AS A MEDIA LOOP
Between uses, the IntoxBox HD monitor can double as a personalized media loop, displaying slides or videos hand-picked by the sponsoring party. At a wedding reception, for instance, the screen might display a loop of pictures or videos of the bride and groom, family members, friends and other images of interest.
"We had an Intox Box at my daughter's wedding and it ALMOST stole the show!" explained Elaine Koyama, whose daughter was recently married in Minneapolis. "Guests were drawn to it because of the slideshow of the bride and groom that we were able to have on it, and also because of the fun facts about the couple that also played on the screen. We had great fun guessing our intox level, and it played a practical and safety role for our guests—at least one couple decided to walk to their hotel instead of drive. My sister-in-law is planning a wedding for next summer, and she is already asking how she can have an Intox Box at their reception!"
Nearly 12,000 Americans are killed each year in alcohol-related accidents and more than a million Americans are arrested on DUI charges. The IntoxBox is designed to help individuals make an informed decision on their ability to drive.
"This is quickly becoming an essential tool for event planners who want to show they truly care about the welfare of their guests," says Walden. "What they'll also find out is that the IntoxBox is a lot of fun. Their guests are going to love it."
(To learn more, the IntoxBox was recently featured at the tech innovations website Uncrate and has been featured on numerous TV news shows.)