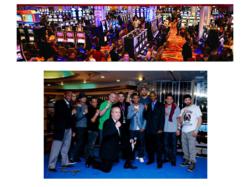 First professional boxing show in a New York City Casino
Queens, New York (PRWEB) August 09, 2012
Saturday, September 22nd, 2012 will be a historic night of boxing as New Legend Boxing, Old World Boxing and W.O.N Promotions present a spectacular show at the beautiful Resorts World Casino in Queens New York. This event will be the first ever professional boxing event staged in a New York City casino.
"We are very excited about this new venue," said Felipe Gomez of New Legend Boxing. "The casino is an important move for us and our business partners. This will help to take our promotions to the next level, while creating opportunities for local talent to become the next wave of champions & contenders. The International Fight Night card will feature some of the best local talent in the New York area and will be the first in what we believe will be a long term relationship with the Resorts World Casino in New York City."
Tickets for this historic night of boxing start at $50 for General Admission, $75 for Main Floor Reserved, and $125 for VIP Seating. Tickets can be purchased by calling New Legend Boxing (718-487-4474), Old World Boxing (718-765-1860) or online at http://www.newlegendboxing.com.
The Promoters for the event are New Legend Boxing (Felipe Gomez & Kevin O'Sullivan); Old World Boxing (Jim Foley) & W.O.N Promotions (Wilson O. Naranjo) the bouts will highlight a slew of local favorites, among them:
Joe "The Irish Bomber" Smith, 10-1, 10KOs, is a Heavy handed Long Island Light Heavyweight and former two time Golden Gloves champion. Joe continues his quest for glory after suffering a broken jaw, from a freakish blow in his 7th pro fight.
Juan "Baby Tito Dominguez" 10-0, 7KOs. This bantamweight sensation from Brooklyn by way of Dominican Republic has knocked out his last four opponents, and is a rising star in the division.
Frank Galarza, 7-0, 4KOs Middleweight fighting out of Brooklyn, New York, is a 2010 Golden Gloves Champion. Works as a personal trainer and electrician, while fighting professionally. Frank has faced many life challenges, including the death of both parents.
Boyd "Rainmaker" Melson, 8-1, 4Kos. A Brooklyn native, army captain and middleweight prize fighter, currently residing in Manhattan. Boyd has donated all his boxing purses to support and help cure chronic spinal cord injuries in association with Justadollarplease.org
Other fighters on card will be Angel Garcia, Allan Phelan (by way of Ireland), Rafael Vazquez and Daniel Gonzalez. The Resorts World Casino New York City is located at 110-00 Rockaway Blvd, Jamaica, NY 11420
Contact: Juan Guillen: 212-851-6164 ex. 12 | email: manoamanop(at)aol(dot)com
###