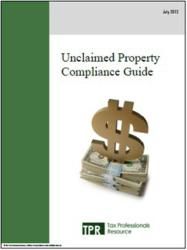 (PRWEB) August 09, 2012
Tax Professionals Resource recently published a brand new white paper called "Unclaimed Property Compliance Guide." This white paper is designed to help tax professionals achieve compliance and can be downloaded free of charge on the Tax Professionals Resource website.
Unclaimed property compliance sounds fairly easy when it is managed by common sense and a set of rules governing the process. Standard compliance rules with items deemed to be unclaimed would help the process along. However, each state handles unclaimed property differently. Some states have no guidelines at all. States with a set of guidelines often conflict with other states where guidelines differ.
Take this one step further and discover that definitions of unclaimed property differ in each of the 50 states. The biggest anomaly is that unclaimed property happens to be one of the hottest issues for debate among state and local tax professionals - and it is not even a tax. It could become a tax if held due to corporate oversight, failure to report or failure to disburse. Unclaimed property compliance is often overlooked. This white paper outlines some of the common compliance issues and will help tax professionals to avoid audits.
About the Tax Professionals Resource:
The Tax Professionals' Resource is a training and development website dedicated to the enhancement of the tax profession. They are committed to the specific educational and developmental needs of members looking for unique, up-to-date tax training opportunities through audio conferences, seminars, webinars and articles. Members also gain access to product offerings and other educational tools that assist in securing their position at the forefront of their respective disciplines. Tax Professionals Resource delivers an overall experience that gives their community of tax professionals a distinct competitive advantage.