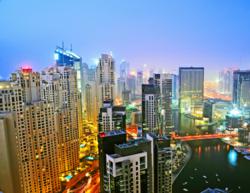 We're happy to be expanding into Dubai, as we know there's a significant reputation issue at play in that country
Denver, Colorado (PRWEB) August 09, 2012
InternetReputation.com, a global leader in online reputation management, is proud to announce that the company is expanding into the Dubai market. As a result of this expansion, businesses and individuals in Dubai will have access to the full suite of powerful tools InternetReputation.com currently offers its clients in the United States.
Dubai is an attractive option for businesses, due to the country's modern business infrastructure and business-friendly tax structure. This may explain why more than 500 U.S. companies have offices in the UAE, according to Fodor's, with more coming to the country each year. Buyers in the UAE are also remarkably tech-savvy, which might mean that they are more likely to read online reviews of products and services, and post nasty complaints when things aren't quite to their liking. Combining an attractive business climate with a tech-savvy market could wind up in disaster, if companies spend thousands to open their doors, and then lose all market share due to negative online chatter.
Companies that want to protect their startup companies from online catastrophe can hire InternetReputation.com to monitor the online chatter that swirls around their companies. InternetReputation.com can also take appropriate action when such negative chatter is detected. InternetReputation.com can also work to have offensive content removed, but the company can also provide innovative solutions that can push negative information to low-ranking search result pages, making it much less likely to be read.
InternetReputation.com offers free consultations, allowing executives to examine the problem and the cost of a solution long before they buy. The service can begin almost immediately, as soon as contracts are signed, and the company promises results in just a short period of time. The company's executives hope to sign up multiple Dubai clients in a short period of time.
"We're happy to be expanding into Dubai, as we know there's a significant reputation issue at play in that country," says an InternetReputation.com representative. "We know starting up a company is expensive, and that negative online information can kill that initial investment in mere moments. We're happy to be able to provide a reasonable solution to that problem."
Find out more about the company's offerings, and see reviews from former clients, at http://www.InternetReputation.com.