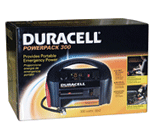 Destin, FL (PRWEB) August 08, 2012
Throughout the month of August 2012, Disaster Relief Supply will team up with Duracell to run a promotion of 10% off all Duracell power packs, inverters, jump starters, and battery chargers. Disaster Relief Supply, being a well-established dealer of Duracell products, was chosen as a partner in this promotion due to their success as a seller of both large and small power-equipment products, and their professional website and business relations.
The August promotion will highlight a popular line of products during these late summer months; emergency power products. Hurricanes, along with lowered consumer confidence in government policies closer to the 2012 presidential election, have caused an increase in sales for products like generators, inverters, solar panels, and all things "self-powered". All factors weighed in with tax-free holidays and last chance buying before the end of summer; provide Disaster Relief Supply hope for a large response from the sale.
The Duracell promotion will be featured on the website with a promotional code (DCELL8), and offered in-store on the Duracell Power Packs and larger Inverters. For more information on the promotion and products offered, visit the disaster relief supply website and click on the banner on the main page.